Tong Ren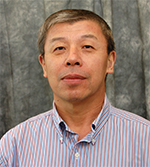 Professor—Inorganic Chemistry
Email: tren@purdue.edu
Phone: 765-494-5466
Office: BRWN 5130A
We are pursuing several research fronts rooted in synthetic and physical inorganic chemistry, with emphasis on compounds of importance in electronic and opto-electronic materials, biomimetic chemistry, and energy science.
Our effort in the area of carbon-rich organometallic materials focuses on the synthesis and characterization of conjugated Ru2-alkynyl compounds. For their materials application, we are also interested in surface immobilization, SAM formation, current-voltage (I-V) characteristics at nanoscale, and second and third order optical nonlinearity of these compounds. Specific aims include:
Molecular wires and devices based on monodisperse oligomeric Ru2-alkynyls
Peripheral covalent modifications for supramolecular assembly of metal alkynyl compounds
Conjugated and non-conjugated dendrimers of a Ru2 core for photovoltaic application
Hierarchical assemblies of nanoparticles with Ru2-oligoyne linkers
Bioconjugates of Ru2-alkynyl as sensors (DNA chips) for genomic applications
We are interested in biomimetic chemistry of organophosphorous compounds, including functional models of organophosphorous hydrolases and recognition of phosphate containing metabolites. Also of interest is green oxygenation chemistry of organic sulfides. Specific aims include:
 Detoxification and decontamination protocols for both G- and V-type chemical warfare agents
Selective binding of phosphate mono- and di-esters with bimetallic complexes
Expedient oxygenation of organic sulfides with inexpensive catalysts
Effective removal of dibenzothiophene from fossil fuels via oxygenation-extraction strategy
Education
Ph.D., Texas A&M University, 1990 Postdoctorate, Massachusetts Institute of Technology, 1991-93
Selected Publications
Zhi Cao, Bin Xi, Diane S. Jodoin, Lei Zhang, Steven P. Cummings, Yang Gao, Sarah F. Tyler, Phillip E. Fanwick, Robert J. Crutchley, and Tong Ren

, Diruthenium-Polyyn-diyl-Diruthenium Wires: Electronic Couplings in the Long Distance Regime. J. Am. Chem. Soc. 2014 , 136, 12174–12183.

Yang Zhang, Eileen C. Judkins, David R. McMillin, Dhairya Mehta and Tong Ren

, Mesoporous Silica Supported Ruthenium Oxide Nanoparticulates as Efficient Catalysts for Photo-induced Water Oxidation. ACS Catal. 2013 , 3, 2474-2478.

Bin Xi, Isiah P. C. Liu, Guo-Lin Xu, M. M. R. Choudhuri, Maria C. DeRosa, Robert J. Crutchley, Tong Ren

, Modulation of Electronic Couplings within Metal-Polyyne Frameworks. J. Am. Chem. Soc. 2011 , 133, 15094-15104.

Jie-Wen Ying, Isiah Po-Chun Liu, Bin Xi, You Song, Charles Campana, Jing-Lin Zuo, Tong Ren

, Linear Diruthenium Trimer of Butadiyn-diyl Bridge - A Unique Electronic Wire. Angew. Chem. Int. Ed. 2010 , 49, 954-957.
More Publications