Ei-ichi Negishi
Herbert C. Brown Distinguished Professor and Teijin Limited Director of the Negishi-Brown Institute—Organic Chemistry
Email:
Phone: 765-494-5301
Office: WTHR 361A
For Professor Negishi's individual Home Page click here.
A large number of organic reactions including biochemical processes are promoted by catalysts. Besides traditional Lewis acids and bases and biochemical catalysts, i.e., enzymes, transition metals and their complexes represent one of the most important groups of catalysts.
Our research is mainly directed toward (i) discovery and development of transition metal-catalyzed organic reactions, (ii) their application to those organic transformations which are of interest in the health- and energy-related areas, and (iii) development of polymer and materials chemistry based on organotransition metal chemistry.
Several specific examples described below are representative of our recent research.
Exploration, development, and application of organozirconium chemistry.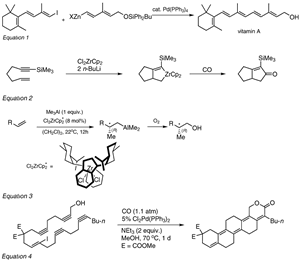 Our discovery and development of the Zr-catalyzed carboalumination and the Pd-catalyzed cross coupling provided a highly stereoselective synthesis of vitamin A (Equation 1).
The Zr-promoted bicylization reaction we have discovered and developed (Equation 2).

Our current efforts are focused on the development of catalytic and/or asymmetric reactions involving Zr (Equation 3).
Exploration, development, and application of organopalladium chemistry.
In addition to Pd-catalyzed cross coupling, and acylpalladation we earlier developed, we have recently developed a Azipper@-mode cascade carbopalladation which promises to be a powerful tool for cyclization (Equation 4) and preparation of oligo- and polyacetylenes as candidates for conductive polymers.
Education
B.S., 1958, University of Tokyo; Ph.D., 1963, University of Pennsylvania; Postdoctoral Fellow and Assistant, 1966-1972.
Recognitions
Foreign Associate of the National Academy of Sciences, 2014
American Academy of Arts & Sciences, 2011
Order of the Griffin, 2011
Sagamore of the Wabash, 2011
ACS Award for Creative Work in Synthetic Organic Chemistry , 2010
Nobel Prize in Chemistry, 2010
The Order of Culture, Japan, 2010
Invited Lectureship, 4th Mitsui International Catalysis Symposium (MICS-4), Kisarazu, Japan, 2009
Gold Medal of Charles University, Prague, Czech Republic , 2007
Yamada-Koga Prize , 2007
Sigma Xi Award, Purdue University , 2003
Sir Edward Frankland Prize Lectureship , 2000
Alexander von Humboldt Senior Researcher Award, 1998-2000
American Chemical Society Award for Organometallic Chemistry, 1998
Herbert N. McCoy Award, 1998
Chemical Society of Japan Award, 1997
A. R. Day Award (ACS Philadelphia Section award), 1996
Guggenheim Fellowship, 1987
Assistant and Associate Professor, Syracuse University, 1972-1979
Harrison Fellowship at University of Pennsylvania, 1962-63
Fulbright-Smith-Mund Fellowship, 1960-61
Selected Publications
Wang, C.; Tobrman, T.; Xu, E.; Negishi, E.

, Arylethyne Bromoboration-Negishi Coupling Route to E- or Z-Aryl-Substituted Trisubstituted Alkenes of ≥98% Isomeric Purity. New Horizon in the Highly Selective Synthesis of Trisubstituted Alkenes. Adv. Synth. Catal. 2010 , 352, 627-631.

Negishi, E.; Wang, G.; Rao, H.; Xu, Z

, Alkyne Elementometalation–Pd-Catalyzed Cross-Coupling. Towards Synthesis of Any Alkenes in High Yields, Efficiently, Selectively, Economically, and Safely–"Green" Way. J. Org. Chem 2010 , 75, 3151-3182.

Pitsinos, E.; Athinaios, N.; Xu, Z.; Wang, G.; Negishi, E.

, Total Synthesis of (+)-Scyphostatin Featuring An Enantioselective and Highly Efficient Route to the Side-Chain via Zr-Catalyzed Asymmetric Carboalumination of Alkenes (ZACA). Chem. Commun. 2010 , 46, 2200-2202.
More Publications