Mingji Dai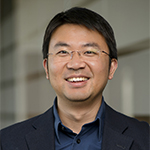 Assistant Professor—Organic Chemistry
Email: mjdai@purdue.edu
Phone: 765-496-7898
Office: DRUG 145
For Professor Dai's individual Home Page click here.
   The goal of our research program is to innovate in both the strategy and methodology of chemical synthesis, and apply them to solve some of the problems of biological and medical importance and ultimately impact human health. We work on both natural and unnatural molecules with particular potential for the treatment of cancer, CNS disorders and infectious diseases. We view the completion of a synthesis as the beginning of a larger and deeper scholarly inquiry. It would enable us to profile the biology of the selected natural products and rationally designed small molecules, decipher their mechanisms of action, and optimize the lead compounds into biological probe and novel therapeutics development. We are also interested in creating unconventional and diverse small molecule collections to target protein-protein interactions and exploring reversible/irreversible covalent small molecule-protein interactions and their application in biology and drug discovery.
Education
B.S., 2002, Peking University; Ph.D., 2009, Columbia University (Dissertation awarded with distinction); Postdoctoral Fellow, 2009-2012, Harvard University and The Broad Institute.
Recognitions
The Hammett Award, 2009
The Roche Award for Excellence in Organic Chemistry, 2009
The Jack Miller Award for excellence in teaching , 2008
The Bristol-Myers Squibb Graduate Fellowship in Synthetic Organic Chemistry, 2006-2007
Selected Publications
Adams, D. J.*; Dai, M. J.*; Pellegrino, G.; Wagner, B. K.; Stern, A. M.; Shamji, A. F.; Schreiber, S. L.

, Synthesis, Cellular Evaluation, and Mechanism-of-Action of Piperlongumine Analogs (* These authors contributed equally.). Proc. Natl. Acad. Sci. USA 2012 , Manuscript submitted, .

Dai, M. J.; Danishefsky

, A concise synthesis of the cortistatin core. Tetrahedron lett 2008 , 49, 6610-6612.

Dai, M. J.; Danishefsky, S. J.

, The total synthesis of spirotenuipesines A and B. J. Am. Chem. Soc 2007 , 129, 3498-3499.
More Publications