George M. Bodner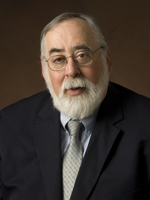 Arthur Kelly Distinguished Professor — Chemical Education

Email:

gmbodner@purdue.edu

Phone:

765-494-5313

Office:

WTHR 210B
Most faculty in the Department are interested in increasing our knowledge and understanding of chemistry. We are interested in finding better ways of conveying this information to students, regardless of whether they are freshmen enrolled in general chemistry or advanced undergraduates and graduate students trying to master anything from synthetic organic chemistry to theoretical physical chemistry.
Our research is based on the constructivist theory of knowledge, which assumes that knowledge is created in the mind of the learner. One of our long-term interests has been problem solving in chemistry. This work has focused on differences between the way experts solve routine exercises and the techniques they use to solve novel problems; a model of the steps involved in problem solving; problem solving in non-mathematical contexts such as organic synthesis; and the role that students' beliefs about chemistry and mathematics plays in the selection of strategies they use to solve problems.
Another long-term interest involves the search for alternatives to the classical lecture technique that has dominated the science and mathematics classroom. Our goal is to understand and eventually overcome the constraints instructors face that interfere with their creating a classroom environment that is consistent with what they believe is the optimum way for students to learn.
Education
Ph.D., 1972, Indiana University
B.S., 1969, State University of New York at Buffalo
Recognitions
Purdue University Morrill Award, 2013
James Flack Norris Award for Outstanding Achievement in the Teaching of Chemistry, 2010
Fellow of the American Chemical Society, 2009
ACS Pimentel Award, 2003
Clifford C. Furnas Distinguished Alumni Award from the University at Buffalo, 2003
Nyholm Lecturer of the Royal Society of Chemistry, 2002 - 2003
Alpha Lambda Delta Best Freshman Professor Award, 1990
Chemical Manufacturers Association Catalyst Award in Chemical Education, 1989
Purdue University Outstanding Teacher in the School of Science Award, 1983
Purdue University Alumni Foundation Helping Students Learn Award, 1982
AMOCO Foundation Outstanding Teacher Award, 1981
Frank D. Martin Undergraduate Teaching Award, 1980