Yu Xia
Associate Professor — Analytical Chemistry

Email:

yxia@purdue.edu

Phone:

765-494-1142

Office:

BRWN 3131C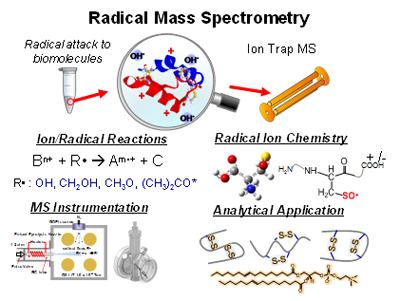 Instrumentation development. We are developing mass spectrometry (MS) systems to perform radical reactions of biomolecules in a linear ion trap and in the plume region of the nanoelectrospray ionization source. These new tools enable research from fundamental studies on radical attack to biomolecules to a variety of analytical applications.
Bio-radical chemistry. Diverse types of bio-radical ions can be formed in the gas phase based on radical reactions. We use MS to investigate the intrinsic chemical properties (structures, energetics, and reactivity) of bio-radicals, which provide insight into radical related enzyme catalysis and the fate of biomolecules upon radical attack.
MS method development. We have explored the reactions of proteins and lipids with various radicals (OH, OCH3, CH2OH, excited state of carbonyl). These radical reactions when coupled with MS facilitate new analytical capabilities including enhanced disulfide protein sequencing and highly specific C-C double bond location determination in lipids.
Education
Ph.D., 2006, Purdue University
M.S., 2002, Shanghai Institute of Materia Medica
B.S., 1999, Lanzhou University
Recognitions
American Society for Mass Spectrometry Research Award, 2013