Timothy S. Zwier

M. G. Mellon Distinguished Professor of Chemistry – Physical Chemistry

Email:

zwier@purdue.edu

Phone:

45278

Office:

B155 BRWN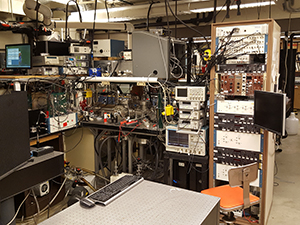 The Zwier group focuses on problems at the interface between the traditional fields of molecular spectroscopy and dynamics. We develop and apply laser-based methods to study neutral molecules, ions, radicals, and molecular clusters of a size and complexity that test the large-molecule limits of current theories of chemical structure and dynamics.
Our current research interests have applications in the following three areas:
The investigation of conformational preferences, isomerization dynamics, and hydrogen bonding in biologically relevant neutral molecules, molecular ions, and molecular clusters. A particular current interest is synthetic foldamers, molecules designed to fold in well-defined ways that either mimic or complement the folding propensities of α-peptides found in nature.
The study of the photo-induced and discharge-driven chemistry and spectroscopy of molecules of importance in planetary atmospheres, particularly on Titan, one of the moons of Saturn.
The study of the chemistry, spectroscopy, and isomerization of molecules and radicals of importance in combustion, seeking to understand reactions and energy flow in aromatic derivatives that are intermediates along the pathway towards soot formation.
Education
B.S., Calvin College, 1977
Ph.D., University of Colorado at Boulder, 1981
Recognitions
Earle K. Plyler Prize for Molecular Spectroscopy from the American Physical Society, 2007
Fellow of the American Chemical Society, 2010
Fellow of the American Physical Society, 2000
JILA Visiting Fellow, 1994
Research Fellow, 1989
Senior Editor, Journal of Physical Chemistry, 2003