Chemical Education
Purdue University houses faculty and student groups studying factors affecting how students learn chemistry and how best to teach chemistry. Faculty members in our Division of Chemical Education are Professors Trevor Anderson, George Bodner, and Marcy Towns. These faculty, and their graduate students in the Division of Chemical Education, conduct research on various topics, including:
Problem solving
Instructional technologies
Alternative modes of instruction
Science Inquiry
Visual literacy
Classroom discourse analysis
Laboratory learning
Mathematics in physical chemistry
Climate literacy
There is also a strong international presence due to international collaborations and international students.
Research
The faculty in chemical education have a wide range of research interests including student understanding of the particulate nature of matter, mathematics in physical chemistry, visualization of biomolecules, science literacy, climate literacy, student understanding of concepts in organic chemistry, and the goals of undergraduate laboratory. Transforming research findings into practices that impact educational environments connects our fundamental research to teaching methodologies.
We are Education Makers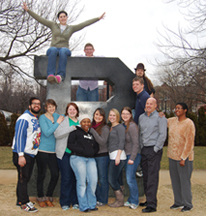 Chemical Education graduate students.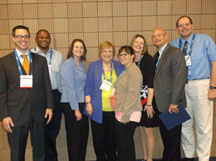 ACS Award for Achievement in Research for the Teaching and Learning of Chemistry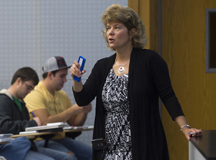 Murphy Awards