Chemical Education Course Requirements
All students in the Ph. D program and the M. S. program in the Department of Chemistry take a minimum of 18 credit hours of course work: 9 hours in an area of concentration and 9 hours in two supporting areas. As their area of concentration, students in chemical education usually take a 9 hour block in one of the traditional areas of chemistry:
analytical chemistry
biochemistry
inorganic chemistry
organic chemistry
physical chemistry
Or in one of the specialty areas, for example in
physical-organic chemistry
atmospheric chemistry
materials chemistry
environmental chemistry
nuclear chemistry
radiochemistry
physical biochemistry
chemical physics
Students in chemical education also take courses in education as their supporting areas, but most students need more that 9 hours. Ph. D. students need enough background to write and defend a proposal for original research in chemical education and a separate dissertation proposal that describes the research intended for the Ph. D. dissertation. Both Ph. D. and M. S. students need enough background to carry out the research they wish to do for their thesis. In most cases this requires about 5 or 6 courses (15-18 hours) selected from the following areas
selected readings in chemical education
educational psychology
survey of science education
measurement and evaluation
multi-cultural education
educational technology
qualitative research
methods of teaching chemistry
courses from other departments
Graduate Courses in Chemistry
For additional information about the Graduate Program in the Department of Chemistry, please visit the Department of Chemistry - Graduate Chemistry web site.
Graduate Courses in Education
Students in chemical education commonly select from the following courses from the School of Education to build their supporting areas:
EDCI 517 Survey Of Science Education
EDCI 518 The Nature Of Science In Science Teaching
EDPS 530 Advanced Educational Psychology
EDCI 585 Multicultural Education
EDCI 615/616 Qualitative Research Methods In Education/Advanced Qualitative Research Methods
EDCI 622 A special topics course in science education
EDPS 633 A special topics course in advanced educational psychology
For more information about graduate courses in Education, please visit the College of Education - Science Education web site.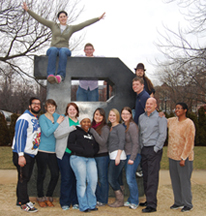 Chemical Education graduate students.