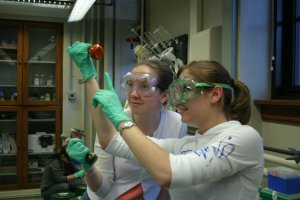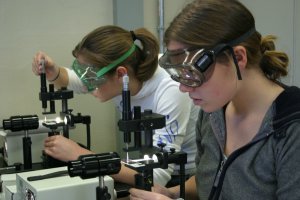 ---
Center for Authentic Science Practice in Education (CASPiE)
Description
---
The Center for Authentic Science Practice in Education (CASPiE) is a multi-institutional collaborative effort designed to address major barriers to providing research experiences to younger undergraduate science students.
Our Goals
CASPiE will take advantage of the complementary strengths and needs of its different partner institutions to develop a program that will:
Provide first and second year students with access to research experiences as part of the mainstream curriculum.
Create a collaborative, research-group environment for students in the laboratory.
Provide access to advanced instrumentation for all members of the collaborative to be used for undergraduate research experiences.
Help primarily undergraduate institutions (PUI) faculty develop research projects to that their own research capacity is enhanced and the students at these institutions can participate in this research.
Create a research experience that is engaging for women and ethnic minorities and appropriate for use at various types of institutions, including those with diverse populations.
Related Materials
---
Group Members
Cianán Russell
Megan Grunert (past summer research student)
Bryan Katzenmeyer (past group member)
Dr. Anne Bentley (past group member)
Links:
Publications:
Bentley, Anne K.; Weaver, Gabriela C.; Russell, Cianán B.; Fornes, William L.; Shih, Susan M.; Choi, Kyoung-Shin, "Modifying Optical Properties of ZnO Films by Forming Zn1-xCoxO Solid Solutions via Spray Pyrolysis", J. Chem. Ed., accepted
Presentations:
Anne K. Bentley (presenter), Cianán B. Russell, Gabriela C. Weaver, Donald J. Wink, and Pratibha Varma-Nelson, "Adapting the Peer-Led Team Learning Approach for a Research-Based First-Year Laboratory Course", Oral Presentation, Spring ACS Meeting in Atlanta, GA, March 2006
Effects of research experiences on retention in the sciences: Development of measurement instruments; Cianán B. Russell, Aliya M. Rahman, William J. Boone, Gabriela C. Weaver; 230th ACS National Meeting, Washington, DC, Aug 30, 2005
The Center for Authentic Science Practice in Education (CASPiE): An Experiment in Undergraduate Research. Gabriela C. Weaver; Gordon Research Conference: Chemistry Education Research & Practice, New London, CT, June 30, 2005
Project Funded by: