2017 McCoy Lecture
2017-09-26
Writer(s): Steve Scherer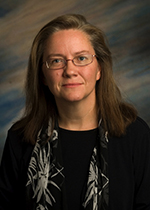 Jean A. Chmielewski, the Alice Watson Kramer Distinguished Professor of Chemistry and professor of biomedical engineering, has been chosen as the 2017 Herbert Newby McCoy Award recipient and will deliver the McCoy Distinguished Lecture on Oct. 30 in Stewart Center's Fowler Hall. The 3:30 p.m. lecture is free and open to the public.
Professor Chmielewski's lecture is titled, "Designing Unique Chemical Approaches to Solve Significant Issues in Human Health."
A reception will follow the lecture at 4:30 p.m. in the Robert L. Ringel Gallery, Stewart Center.
Brief Abstract: Focused on molecular strategies to kill pathogenic bacteria residing in human cells, and to promote penetration of antiviral agents with the goal of eradicating HIV reservoirs.