Latest News
June 3, 2022
Tune in to our oral and poster presentations June 5-9th at ASMS. See our presentation times below: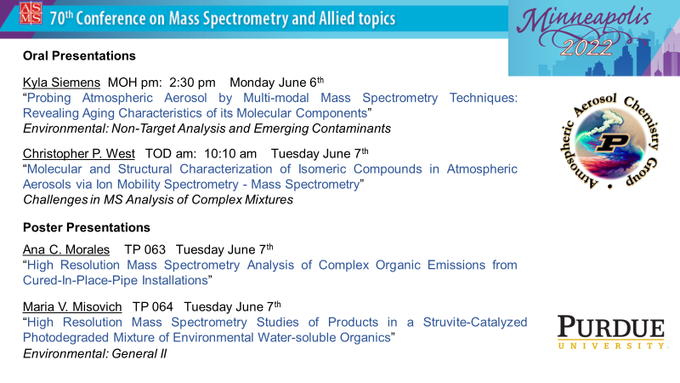 June 1, 2022
Congratulations Chris for receiving the Bilsland Dissertation Fellowship funded by the Graduate School. This fellowship provides support for PhD students completing their thesis.
  More news.
Welcome!
We are a multi-disciplinary experimental group with research interests in the areas of Analytical and Physical Chemistry of airborne particles and environmental interfaces, driven by the overarching goals of understanding their impact on the atmospheric chemistry, the air pollution and the Earth's climate. Our research efforts include three inter-related areas: Development and applications of new analytical methods for chemical characterization of aerosols; Chemical imaging and molecular-level studies of field collected particles; Laboratory studies of multi-phase chemistry of particles and interfaces. 
Contact Us:
Department of Chemistry
Purdue University
560 Oval Drive
West Lafayette, IN 47907-2084
Phone: (765) 494-5243
Email: alaskin@purdue.edu
Twitter: @alaskinlab
Recent Publications
217) J. Xu, A. P. S. Hettiyadura, Y. Liu, X. Zhang, A. Laskin. Atmospheric brown carbon on the Tibetan Plateau: regional differences in chemical composition and light absorption properties. Environmental Science and Technology Letters, 9, 219–225, (2022). doi.org/10.1021/acs.estlett.2c00016
216) Y. Zhou, C.P. West, A.P.S. Hettiyadura, W. Pu, T. Shi, X. Niu, H. Wen, J. Cui, X. Wang, A. Laskin. Molecular characterization of water-soluble brown carbon chromophores in snowpack from northern Xinjiang, China. Environmental Science and Technology, 56 (7), 4173-4186, (2022). doi:10.1021/acs.est.1c07972
215) K. Siemens, A. Morales, Q. He, C. Li, A.P.S. Hettiyadura, Y. Rudich, A. Laskin. Molecular Analysis of Brown Carbon Components of Secondary Organic Aerosol Produced from Photooxidation of Naphthalene. Environmental Science and Technology, 56 (6), 3340-3353, (2022). doi:10.1021/acs.est.1c03135