Principal Investigator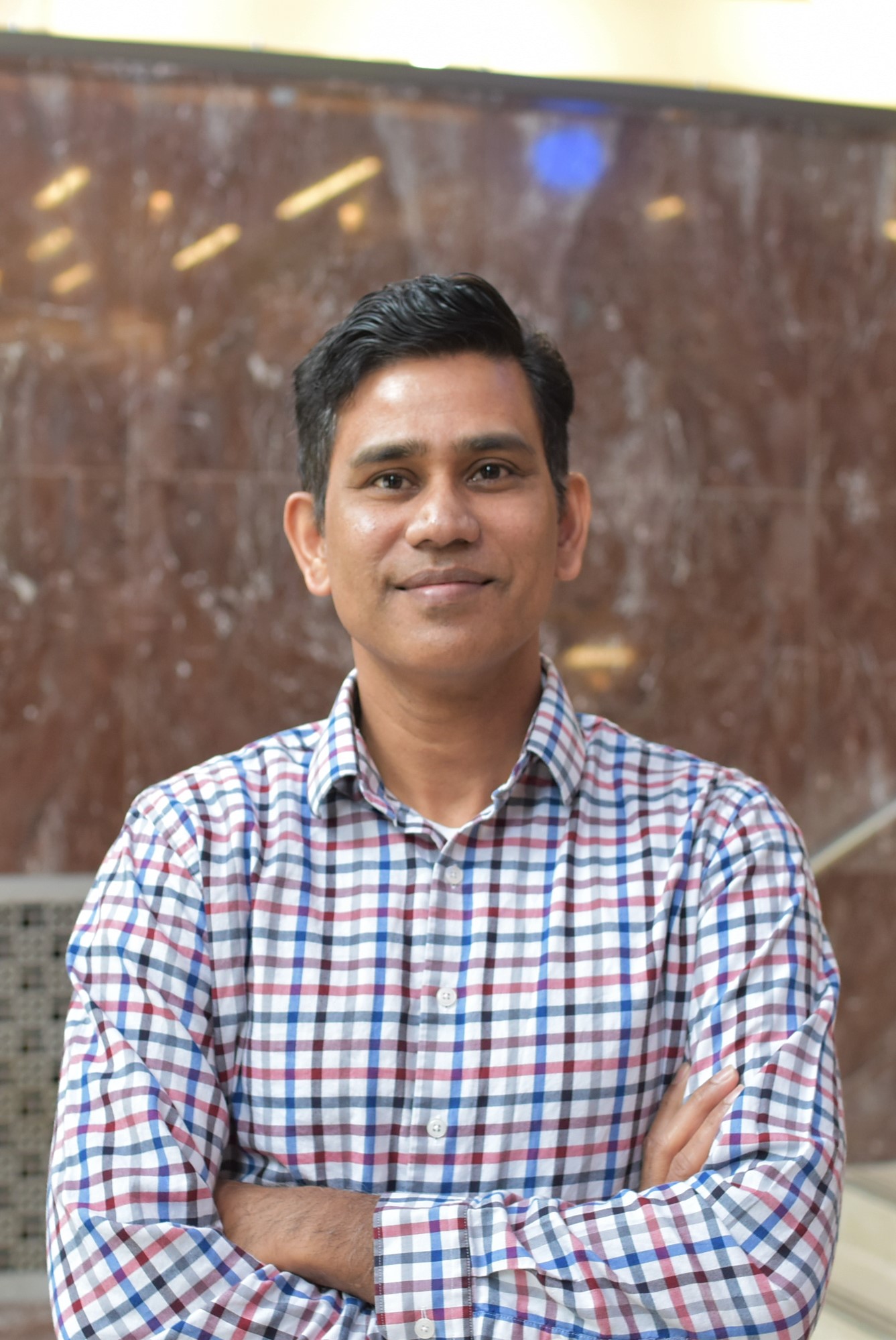 Dr. Chittaranjan Das, Ph.D.
Associate Professor
Department of Chemistry, Biological Division
Ph.D. - Indian Institute of Science 2001
Postdoctoral Fellow - Harvard Medical School/Brandeis University 2001-2006
Chitta Das is an Associate Professor in the Department of Chemistry at Purdue University. He received his Ph.D. from the Indian Institute of Science, Bangalore (India). Following his PhD education, he became a post-doc in Dr. Greg Petsko's group at Harvard Medical School and Brandeis University. He uses X-ray crystallography to study structure-function relationship of bacterial effectors that regulate ubiquitin signaling.
During his sabbatical in early 2019, Chitta decided to study cryo-EM under the guidance of the late Michael Rossmann. He hopes that the synergy between X-ray crystallography and cryo-EM would broaden our scope of understanding the various aspects of the ubiquitin system.
Chitta enjoys spending time with his family and is a proud pet-parent of Clyde, their adopted dog.
Current Lab Members 
Post-Doc & Graduate Students
Dr. Shalini Iyer, Ph.D.
Postdoc
Ph.D. University of Bath
iyer59@purdue.edu

Shalini Iyer is a Postdoctoral Research Associate in the Das Lab. She received her Ph.D. in Biochemistry from the University of Bath, UK. Her area of expertise is macromolecular crystallography as well as molecular and cell biology. She also has a strong background in biochemical, biophysical, and cell culture techniques. Since joining our lab in Jun 2018, she has been investigating the structure-function aspects of effector pairs with opposing activities from Legionella pneumophila.

Shalini uses a combination of molecular, biochemical and structural techniques to gain insights into how these bacterial effectors are able to trick the host ubiquitin signaling system and establish a safe, replicative intracellular environment for survival within the host.

Kristos Negrón-Terón
Graduate Student
B.S. University of Puerto Rico
negronk@purdue.edu

Kristos Negrón Terón is a fourth year PhD student in the Das Lab. He did his B.S. in Biology in his hometown at the University of Puerto Rico at Aguadilla. He did some brief research on yogurt probiotics under the tutelage of Dr. José Carde.

He is currently working on utilizing disulfide chemistry for enzymatic and structural characterization of enzymes. He is also working on designing ubiquitin based probes for proteomics to see if they can pulldown new ubiquitin binding proteins from different types of organisms.

Sebastian Kenny
Graduate Student
B.S. Purdue University
skenny@purdue.edu

Sebastian Kenny is a third-year PhD student in the Das Lab. He received his Bachelor of Science degree in Biochemistry from Purdue University. Kenny received training in organic synthesis during his undergraduate research.

In his PhD education, Kenny has been trained in various biophysical techniques such as Biolayer Interferometry and Isothermal Titration Calorimetry - techniques which shed light on protein-protein interaction, allowing for better mechanistic understanding. Currently, Kenny is being trained in the technique of cryo-Electron Microscopy. His goal is to understand the mechanism of p53 ubiquitination by Human Papillomavirus (HPV).

Zhengrui Zhang
Graduate Student
B.S. Sun Yat-Sen University
zhan3248@purdue.edu

Zhengrui Zhang is a third-year PhD student in the Das Lab. He got his bachelor degree in Chemical Biology at Sun Yat-sen University, China. His research focuses on the characterization of bacterial effectors using various techniques, including activity-based proteomics, biochemical assays and X-ray crystallography.

The overall goal of his research is to obtain a better scope regarding how pathogenic bacteria hijack host ubiquitin system. At present, he is working on identifying ubiquitin-interacting proteins in bacteria using activity-based ubiquitin probes. Besides, he has also been working on the crystallization of several uncharacterized bacterial effectors.

Rishi Patel
Graduate Student
B.S. Saint Louis University
patel559@purdue.edu

Rishi Patel is a second-year graduate student in the Das Lab. He studied chemistry and mathematics at Saint Louis University where he investigated myoglobin's capacity to act as a peroxidase and its potential roles in oxidative stress. His research interest lie in bioorganic chemistry and chemical biology.

 

Currently, Rishi works on utilizing chemically orthogonal means to reveal aspects of ubiquitin biology

Cuong Calvin Nguyen
Graduate Student
B.S. Xavier University of Louisiana
nguye625@purdue.edu

Cuong Nguyen (goes by Calvin) was born and raised in New Orleans, Louisiana. He did his undergraduate studies in Xavier University of Louisiana (XULA). Calvin did undergraduate research in Dr. Kevin Riley's lab at XULA. Dr. Riley's lab was focused on computational chemistry, and one of the big projects Calvin was working on was studying the adsorption of industrial gases onto semiconductor surfaces.

Calvin's is currently in training to further his wet lab skills.
Undergraduate Students
Isabella Prislusky
Undergraduate Researcher

Senior, Biochemistry (Ag)

Mentor: Dr. Shalini Iyer

Charan Kanthala
Undergraduate Researcher

Junior, Biology

Mentor: Dr. Chittaranjan Das

Ashley Holahan
Undergraduate Researcher

Junior, Biochemistry (Chem)

Mentor: Sebastian Kenny

Hannah Rondon
Undergraduate Researcher

Junior, Biology

Mentor: Zhengrui Zhang
Laboratory Support
Lee Chiang Hua
Administrative Assistant

765-496-6383
Chiang47@purdue.edu

Laura Mendoza
Custodian

 

 

Benzene Curie (Ben)
Laboratory Support

Golden Retriever

 
Das Lab Alumni 
Post-Doc & Graduate Students
Michelle Permaul (M.S.)

Current Position: Roche, Ltd.

Tushar Maiti (Post-Doc)

Current Position: Associate Professor, UNESCO Regional Center for Biotechnology

Myung-Il Kim (Post-Doc)

Current Position: Bioneer Corporation, South Korea

David Boudreaux (Ph.D.)

Initial Position: Post-Doc, USF

Current Position: Deputy Division Chief, U.S. Army Aeromedical Research Laboratory

Christopher Davies (Ph.D.)

Initial Position: Post-Doc, UC Berkeley

Current Position: Senior Scientific Researcher, Genentech

Judith Ronau (Ph.D.)

Initial Position: Post-Doc, Yale

Current Position: Senior Scientist, AbbVie

 

Marie Morrow (Ph.D.)

Initial Position: Post-Doc, Johns Hopkins University

Current Position: Senior Scientist, Becton-Dickinson

Joseph Chaney (Ph.D.)

Initial Position: Post-Doc, LSU Health Sciences Center

Current Position: Assistant Professor, Xavier University of Louisiana

 

 

 

 

Amy Bueno (M.S.)

Initial Position: Research Specialist, Incotec

Aditya "Raj" Babar (M.S.)

Initial Position: MBA Student, Krannert-Purdue University

Cameron Wade (M.S.)

Initial Position: Technical Services, Epic

Michael Sheedlo (Ph.D.)

Initial Position: Post-Doc, Vanderbilt University

Rashmi Shrestha (Ph.D.)

Initial Position: Lecture Professor, College of Alameda

Current Position: Assistant Professor, Berea College

Kwame Brown (M.S.)

Initial Position: Protein Chemist 2, NextCure

 

 

Kedar Puvar (Ph.D.)

Initial Position: Post-Doc, Harvard Medical School

 

Aya Saleh (Ph.D.)

shared student with Dr. Tamara Kinzer-Ursem

Initial Position: 

 
Undergraduate & High School Students
Trent Arbough (B.S.)

Current Position: M.D. student, University of Cincinnati College of Medicine

Ashley Zeese (B.S.)

Current Position: D.O. student, Marian University

Rachel Hohe (B.S.)

Current Position: Ph.D. student, Case Western University