Sabre Kais Group
Quantum Information and Quantum Computation
People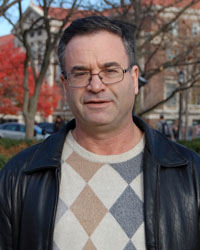 Sabre Kais, Research Advisor
Director, Center for Quantum Technology
Distinguished Professor of Chemistry
Bio and CV
Email: kais@purdue.edu

Group Members
Former Group Members
Post Doctoral Fellow's
Dr. Sangchul Oh (Postdoc. 2023): Faculty at Department of Physics at Southern Illinois University at Carbondale
Dr. Vivek Dixit (Postdoc. 2021): Associate Professor, uGDX School of Technology, ATLAS SkillTech University
Dr. Kumar Ghosh (Postdoc. 2020): Quantum Scientist at E.ON, Essen, Germany 
Dr. Yijue Ding (Postdoc. 2020)
Dr. Sachin Yeole (Postdoc. 2016)
Dr. Jian Wang (Postdoc. 2015)
Dr. Nan Jiang (Postdoc. 2015)
Dr. Dong Wang (Postdoc. 2014)
Dr. Felipe Herrera (Postdoc. 2012)
Dr. Omar Osenda (Postdoc. 2002)
Dr. Jiaxiang Wang (Postdoc. 2002)
Dr. Qicun Shi (Postdoc. 1999)
Dr. Ricardo Sauerwien (Postdoc. 1999)
Dr. Alexei Sergeev (Postdoc. 1998)
Dr. Juan Pablo Neirotti (Postdoc. 1997)
Dr. Pablo Serra ( Postdoc. 1995)
Dr. Richard Bleil (Postdoc. 1994)
Ph.D.'s
Dr. Raja Selvarajan (Ph.D. 2023): Research Scientist, PASQAL, Netherlands.  
Dr. Junxu Li (Ph.D. 2023): Faculty at the Department of Physics, Northeastern University, Shenyang, China.
Dr. Shree Hari Sureshbabu (Ph.D. 2023): Sr. Applied Research Associate| JPMorgan Chase & Co.
Dr. Yuchen Wang (Ph.D. 2023): Post. Doc. Fellow,  Dept. of Chemistry, Purdue University. 
Dr. Ronxin Xia (Ph.D. 2020): Research Scientist, Facebook, San Francisco  
Dr. Teng Bian (Ph.D. 2020): Research Scientist, Facebook, San Francisco  
Dr. Shuxian Jiang (Ph.D. 2018)
Dr. Yitang Zhang (Ph.D. 2017)
Dr. Yudong Cao (Ph.D. 2016)
Dr. Shuhao Yeh (Ph.D. 2016)
Dr. Ross Hoehn (Ph.D. 2014)
Dr. Anmer Daskin (Ph. D 2013)
Dr. Jing Zhu (Ph.D. 2012)
Dr. Edwin Antillon (Ph. D 2012)
Dr. Qing Xu (Ph.D. 2010)
Dr. Qi Wei (Ph.D. 2010)
Dr. Winton Moy (Ph.D. 2010)
Dr. Hefeng Wang (Ph.D. 2008)
Dr. Zhen Huang (Ph.D. 2007)
Dr. Stephen Belair (Ph.D. 2004)
Dr. Pablo Nigra (Ph.D. 2001)
Dr. Imad Ladadwa(Ph.D. 2000)
Dr. Aaron Stanton (Ph.D. 1999)
Masters
Zhanfu Yang (M.Sc. 2019)
Vineet Mohanty (M.Sc. 2017)
Rishabh Chandra (M.Sc. 2014)
Anis Mohammid (M.Sc. 2010)
David Lyvers (M.Sc. 2005)
Undergraduate
Adi Bhatnagar (Undergrad. 2023)
Paul Jones (Undergrad. 2007)
Craig Wenger (Undergrad. 2004)
Hany Gabal (Undergrad. 2004)
Brian Koss (Undergrad. 1997)
Marina Miletic (Undergrad. 1995)
Avial Faliks (Undergrad. 1994)