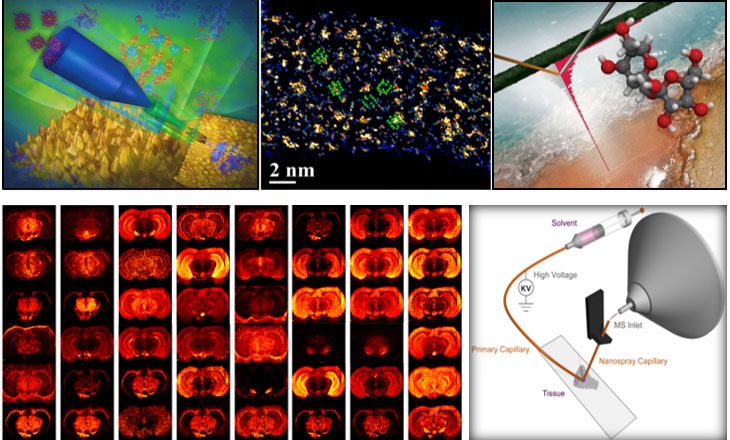 Latest News
November 2018
The group welcomes first-year graduate students Courtney Rupert, Solita Wilson, and Hugo Samayoa-Oviedo.
Julia and Jonas give invited talks at the 34th Waterloo Symposium on Chemical Physics, Waterloo, Canada
Hilary Brown gave a talk at the Merck-Purdue Analytical Symposium.
October 2018
Our NIH project has been funded as part of the HuBMAP Consortium!
Xiangtang Li, a new postdoctoral fellow, joins the group. Welcome, Xiangtang!
Julia gives an invited talk at Baylor University.
Overview
Our research at the interface of physical and analytical chemistry is focused on the advanced development of preparative and analytical mass spectrometry for applications in materials synthesis, imaging and chemical analysis of biological systems at a subcellular level, and environmental sciences.
Contact Us:
We are located on the 5th floor of the Brown Building
Department of Chemistry
Purdue University
560 Oval Drive
West Lafayette, IN 47907-2084
Phone: (765) 494-5464
Email: jlaskin@purdue.edu
Recent Publications
Controlling the Activity and Stability of Electrochemical Interfaces Using Atom-by-Atom Metal Substitution of Redox Species
V. Prabhakaran, Z. Lang, A. Clotet, J. Poblet, G.E. Johnson, J. Laskin
https://pubs.acs.org/doi/10.1021/acsnano.8b06813
From Isolated Ions to Multilayer Functional Materials Using Ion Soft-Landing
By J. Laskin, G.E. Johnson, J. Warneke, V. Prabhakaran
https://onlinelibrary.wiley.com/doi/full/10.1002/anie.201712296
In Situ Infrared Spectroelectrochemistry for Understanding Structural Transformations of Precisely Defined Ions at Electrochemical Interfaces 
P. Su, V. Prabhakaran, G. E. Johnson, J. Laskin
https://pubs.acs.org/doi/pdf/10.1021/acs.analchem.8b02440