Purdue distinguished professor to discuss planetary engineering of Mars
2007-10-11
During this year's McCoy Distinguished Lecture, a Purdue University professor will discuss the potential use of greenhouse gases to engineer a more Earthlike atmosphere on Mars.
The lecture will begin at 3:30 p.m. Wednesday (Oct.10) in Stewart Center's Fowler Hall. A reception will follow in the Stewart Center West Foyer.
Joseph S. Francisco, the William E. Moore Distinguished Professor of Earth and Atmospheric Sciences and Chemistry, will give a presentation titled "From Earth's Atmosphere to Planetary Engineering of Mars: An Adventure in Chemistry." The lecture and reception are free and open to public.
Francisco is the winner of the 2007 Herbert Newby McCoy Award, presented annually to a Purdue student or faculty member for outstanding contributions to science. Ethel Terry McCoy established the award in 1964 in memory of her husband, a Purdue alumnus of the Department of Chemistry. The winner is nominated by colleagues and selected by faculty representatives and the university president.
On Earth, greenhouse gases contribute to atmospheric global warming, but on Mars the gases could make it possible to engineer the atmosphere so it is capable of supporting life.
Francisco will describe the chemistry of the process of the Earth's ozone destruction by chlorofluorocarbons and his group's research into the design of environmentally benign materials to replace these harmful chemical compounds. He also will discuss planetary engineering and new chemistry exploration on Mars.
Francisco has received a National Science Foundation Presidential Young Investigator Award, an Alfred P. Sloan Fellowship and a Camille and Henry Dreyfus Foundation Teacher-Scholar Award. He was a recipient of a John Simon Guggenheim Fellowship, which he spent at the Jet Propulsion Laboratory at the California Institute of Technology, and was elected a fellow of the American Physical Society and a fellow of the American Association for the Advancement of Science.
He was awarded an Alexander von Humboldt U.S. Senior Scientist Award by the German government and also was appointed to be a senior visiting fellow at the Institute of Advanced Studies at the University of Bologna, Italy.
Francisco co-authored the textbook "Chemical Kinetics and Dynamics," published by Prentice-Hall. He also has published more than 400 peer-reviewed publications in the fields of atmospheric chemistry, chemical kinetics, quantum chemistry, laser photochemistry and spectroscopy.
Herbert Newby McCoy earned a bachelor's degree and a master's degree in chemistry from Purdue in 1892 and 1893, respectively. He earned a doctorate from the Univ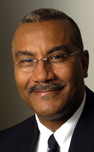 Joseph S. Francisco