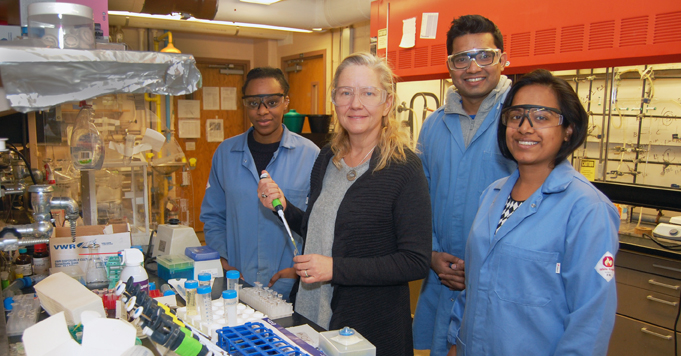 Research
The Department of Chemistry at Purdue has an outstanding record of accomplishment in innovative research, education, outreach, and entrepreneurship. 
Core Areas:
Among our notable successes and distinctions are:
Two Nobel Prize winners in chemical synthesis, including the 2010 winner, Ei-ichi Negishi.
World leadership in the design and commercialization of chemical instrumentation, enhanced by a unique support facility for instrument development.
Remarkable success in translational research, with successfully marketed drug therapies, and start-up companies in instrumentation and health care.
Top-tier nationally ranked program in Analytical Chemistry.
Excellent funding of both single-investigator and large multi-investigator projects, with current annual research expenditures of about $19M.
Outstanding innovators in the detection and treatment of disease, the molecular basis of climate change, and renewable energy.
Strong inter-disciplinary partnerships and collaborations with campus-wide, national and global reach, positioning us for leadership in a university setting with broad excellence in molecular science and engineering.
Vibrant and productive undergraduate and graduate programs (second largest in U.S.) that are training a diverse group of scientists for top-level positions in academia, industry, and entrepreneurial endeavors.
Outstanding alumni with global reach as captains of industry and world-leading scientists.