Physical Chemistry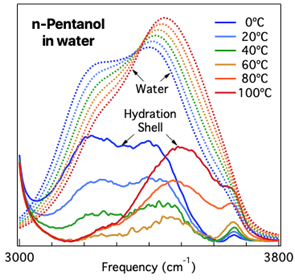 Raman multivariate curve resolution (Raman-MCR) and optimized binary compressive detection (OBCD) are used to learn about hydration-shell structure and water-mediated interactions as well as for high speed chemical imaging.
Please come visit our homepage 
Take a look at our papers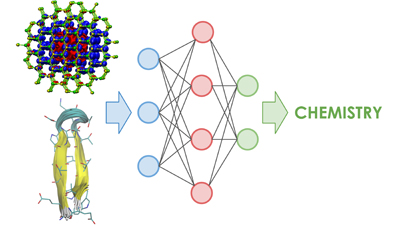 Introducing machine learning techniques to chemistry significantly improves understanding of various chemical systems as well as allows efficient and accurate modeling of thermodynamics and kinetics properties. Our group aims to develop efficient theoretical and computational tools to investigate complex chemical systems by unifying computational chemistry algorithms with machine learning techniques. We are interested in the following topics: (1) developing machine learning based enhanced sampling methods to model biomolecule conformational dynamics; (2) learning energetic and electric properties by integrating machine learning methods with stochastic electronic structure approaches. 
Please come visit our homepage 
Take a look at our papers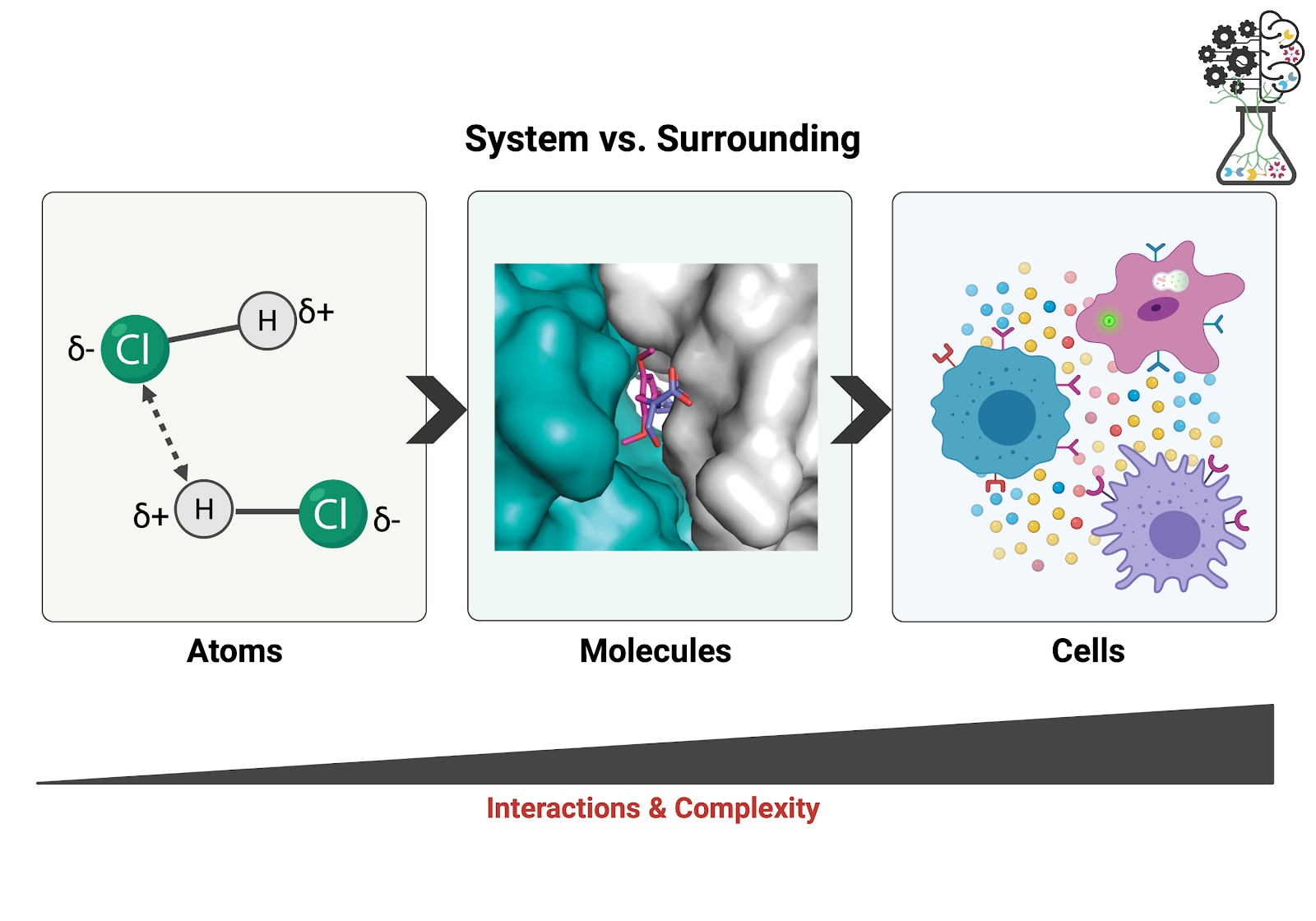 Chemical and biological function depends on the interplay between the system and its surrounding. Our group brings together AI/machine learning, physical modeling, chemical reactivity, and cellular immunology together in a computationally guided experimental research program of Chemical and Cellular Immunology. We strive to determine generic patterns/principles to understand chemical and biological environments from atomic to molecular to cellular scales. Specifically, we ask:
How to model chemical reactivity in different environments and at different scales and how to teach computers to do this by combining physical modeling, principles of data science and autonomous measurements and instrumentation?
How to target immune cell function in different environments using chemical biology and bioanalytical chemistry?
How do immune cells become dysfunctional in chronic inflammation and disease?
We are focused on identifying and then targeting "brakes" of the immune system for cancer and neuroimmunology. We develop computational tools, chemical modulators and molecular profiling methods with a goal to understand and alter the function of specific immune cells in chronic inflammation.
Please come visit our homepage
Take a look at our papers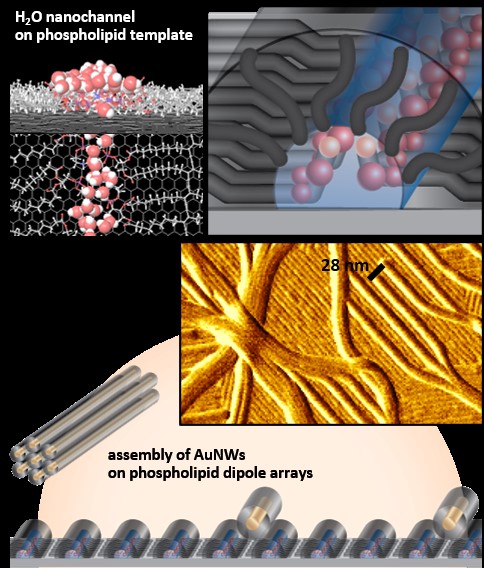 A surprisingly broad range of problems in modern materials chemistry relates to structuring soft matter at scales well below 10 nm. In this limit, an increasingly large fraction of functional groups lie at a boundary between two distinct chemical environments, which changes their behavior. We examine the behavior of functional groups in dimensionally confined environments, with a particular interest in defining structural motifs that use these environments to advantage for the design of new materials. Functional group in a box. Properties of matter change at the smallest scales. How can we take advantage of these changes in designing soft materials for energy conversion and computing near the molecular limit? We are inspired by the diverse chemistry of phospholipids, which create well-defined polar/nonpolar boundaries in cell membranes Maximizing processability, scalability, and function per mass. Designing materials with features at the 1-nm scale means building efficiently, with minimal waste. Simultaneously, structures must be stable enough to survive reasonable device processing conditions, and scalable to areas of cm2 or even m2. Addressing these needs, we design sub-nm-thick precision polymer
layers that embed molecular-scale functionality for applications ranging from ultralight laminates for aerospace, to smart hydrogels for regenerative medicine. 
Please come visit our homepage
Take a look at our papers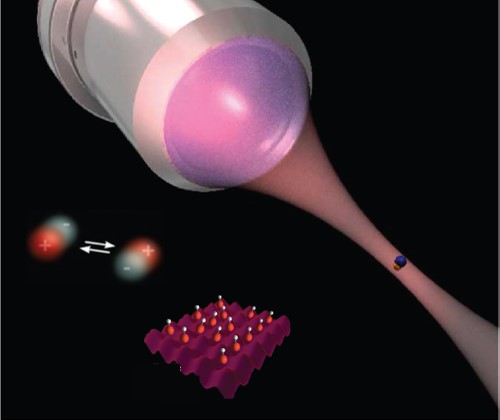 The Hood lab is working towards trapping single ultracold molecules in arrays of optical tweezers with full quantum control.  The molecule's rotational states and strong dipole moment make them 1) a promising candidate for qubits in quantum technologies, and 2) a new platform for studying and controlling quantum chemistry.
Please come visit our homepage
Take a look at our papers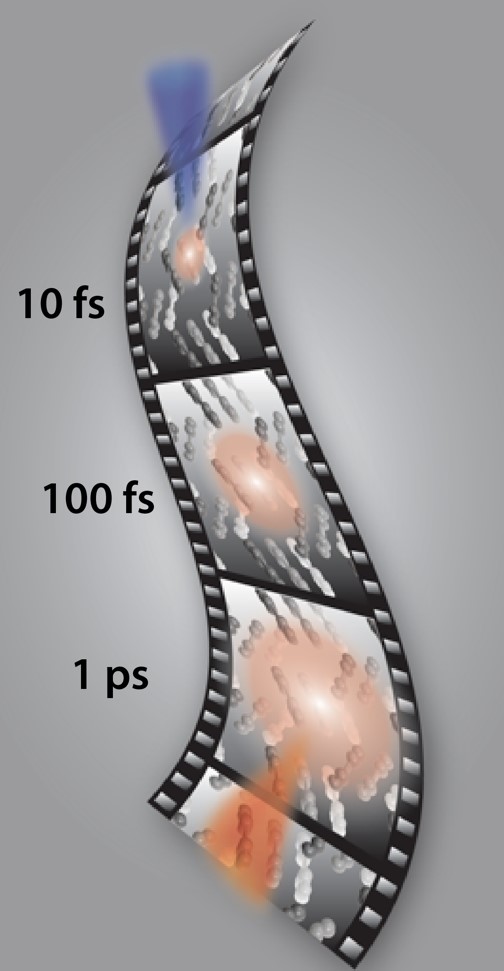 Long-range coherent propagation of energy and information is highly desirable for solar energy harvesting and quantum information applications. Huang research group has developed novel ultrafast microscopy tools with femtosecond temporal resolution and nanoscale spatial resolution to directly visualize coherent energy transport in molecular and nanostructured materials. Our current research efforts focus on elucidating coherent and incoherent mechanisms for exciton and charge transport, enhancing coherent exciton transport by exploiting light-matter interactions, and designing many-body exciton interactions at two-dimensional interfaces.
Please come visit our homepage
Take a look at our papers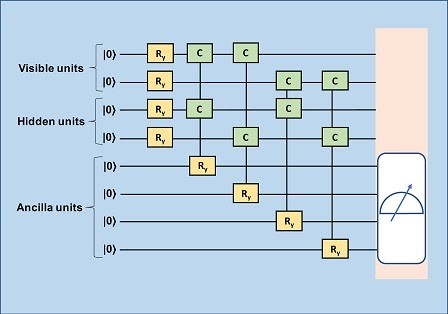 The development and use of quantum computers for chemical applications has  the potential for revolutionary impact on the way computing is done in the future. Major challenge opportunities are abundant. One key example is developing and implementing quantum algorithms for solving chemical problems thought to be intractable for classical computers. Other challenges include the role of quantum entanglement, coherence, and superposition in photosynthesis and complex chemical reactions. At Purdue,  our theoretical division has encountered and analyzed these quantum effects from the view of physical chemistry for decades. Therefore, combining results and insights from the quantum information community with those of the chemical physics community might lead to a fresh understanding of important chemical processes. In particular, we are focusing on  developing quantum computing algorithms for electronic structure calculations,  quantum machine learning for quantum state classifications and the role of entanglement in complex chemical systems.
Please come visit our homepage
Take a look at our papers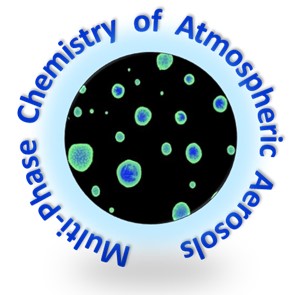 We study physical chemistry of atmospheric aerosols and environmental interfaces with the overarching goals to understand their impact on the atmospheric environment, air quality, health effects and forcing of the Earth's climate. We employ different experimental methods to provide comprehensive description of particle multi-phase chemistry ranging from microscopic properties of individual particles to advanced molecular characterization of bulk particle ensembles.
Please come visit our homepage
Take a look at our papers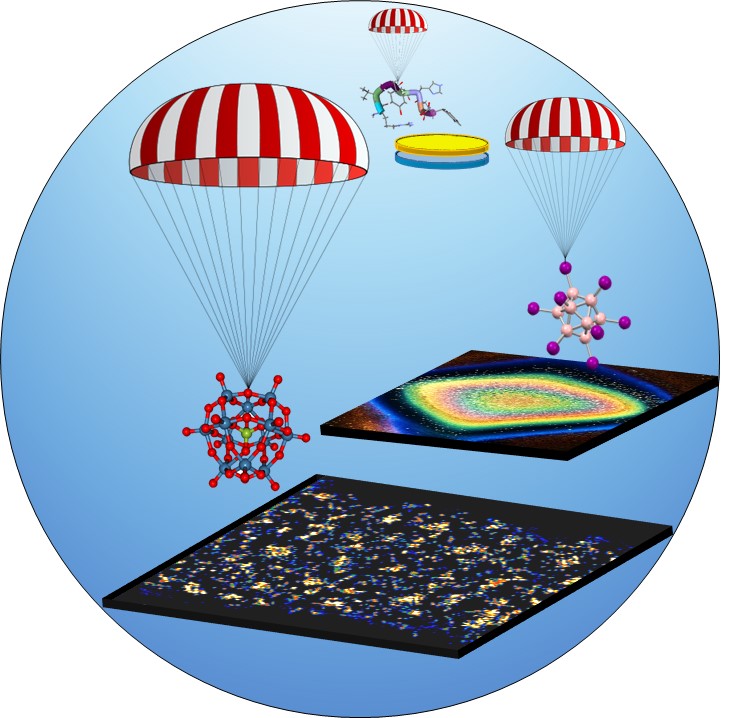 The Julia Laskin group is developing new instruments and experimental approaches for studying surface chemistry of complex ions and preparing new layered ionic materials using soft-landing of mass-selected ions. Ion soft-landing is a unique tool for depositing well-defined intact  polyatomic ions onto surfaces.
Please come visit our homepage
Take a look at our papers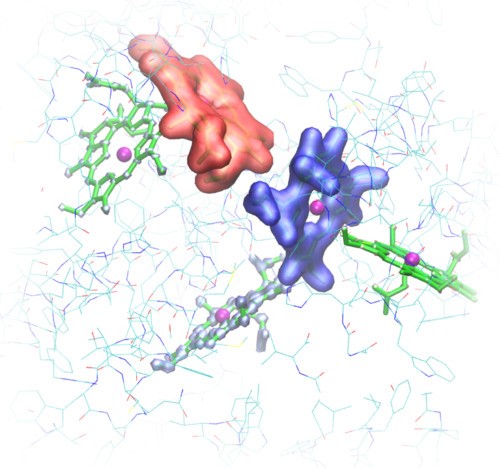 The Reppert group works at the interface between chemistry, biology, and physics, focusing on the related challenges of
using physical principles to understand biological processes, and
using the tools of microbiology to interrogate and control physical phenomena.
Our current emphasis is on determining the protein structural origins and functional significance of low-energy "trap" states in the oxygenic light-harvesting complex Photosystem II. 
Please come visit our homepage
Take a look at our papers

Our group has a long-standing interest in connecting molecular-level structure and orientation to polarization-dependent nonlinear optical imaging. We're using these foundational tools to address challenges related to crystal formation in structural biology and pharmaceutical materials. Integration of machine learning tools directly into instrumentation for data acquisition enables "autonomous instrumentation" capable of independent design and execution of experiments. 
Please come visit our homepage
Take a look at our papers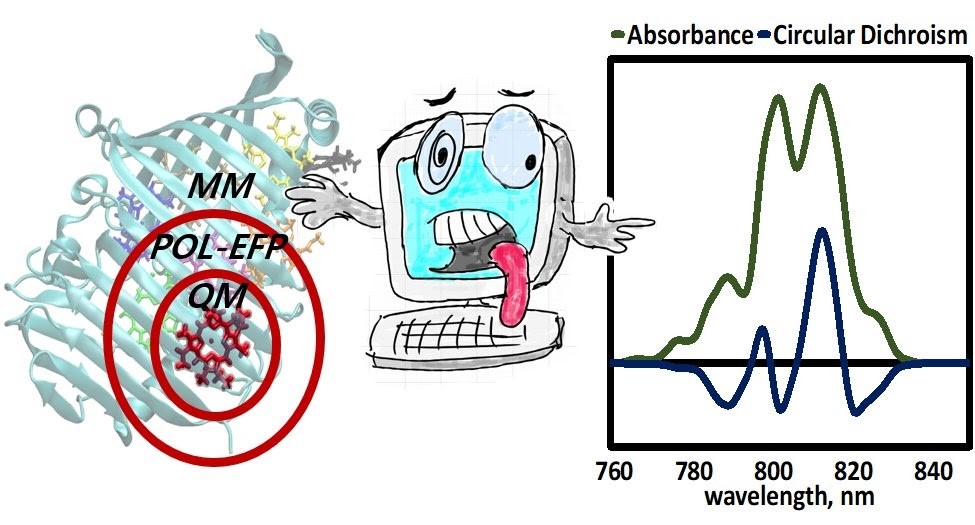 The Slipchenko research group develops theoretical and computational models and software targeting the electronic structure of extended systems, such as photosynthetic and fluorescent proteins, molecular solids, polymers, and bulk liquids. Our specific emphasis is on investigating fundamental aspects of non-covalent interactions and the effect of the environment on electronic structure. 
Please come visit our homepage
Take a look at our papers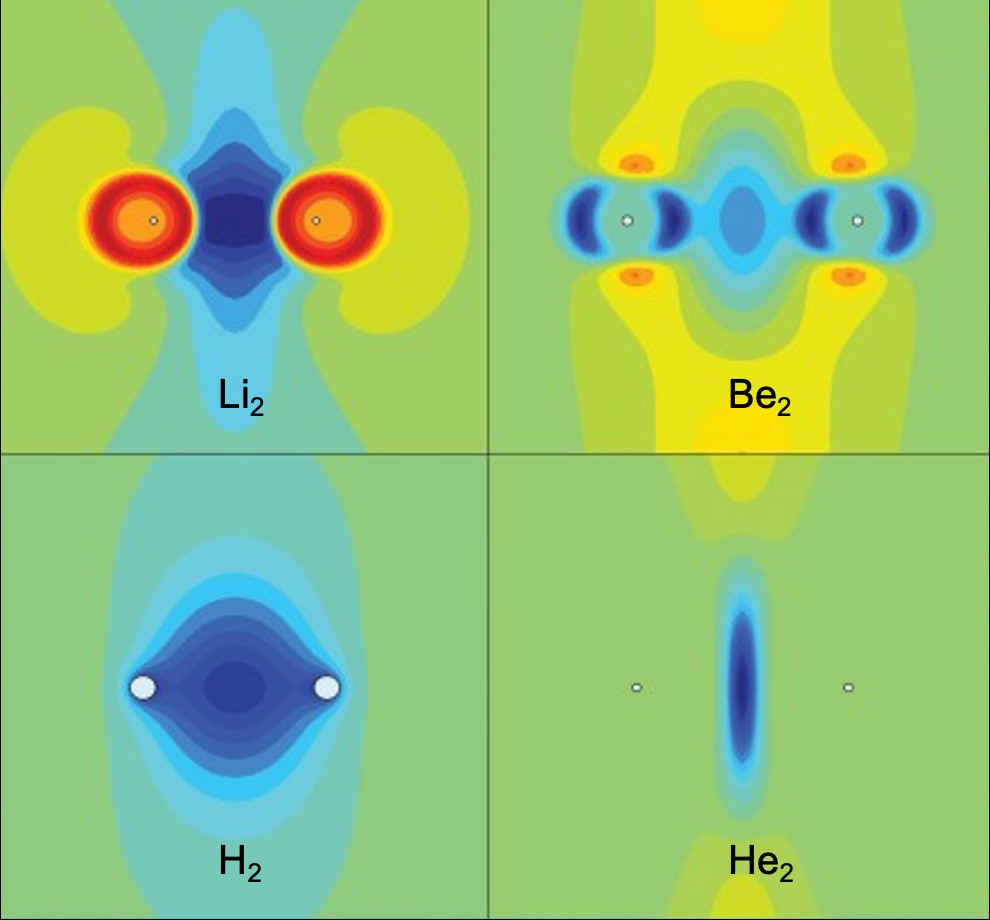 Our goal is to understand how the simplicity of chemical rules arises from the complexity of many-electron quantum mechanics. We are developing a rigorous theoretical framework that will ultimately allow us to establish from first principles, but without having to solve directly the intractable Schrödinger equation, which chemical reactions are feasible under specified conditions, and which are not. This goal is of course shared by many quantum-chemistry groups throughout the world. The distinguishing feature of our approach is its focus on fragments that are described via exact Density Functional Theory as open sub-systems exchanging electrons with other fragments in the molecule and with the environment.
Please come visit our homepage
Take a look at our papers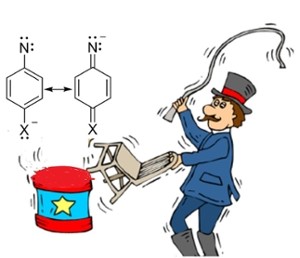 Our group investigates the reactivity, energetics, and structures of ions and neutral reactive intermediates using mass spectrometry. We are interested in all types of systems, including organic and inorganic molecules.  Our focus includes
Anionic Control of Nitrene Electronic Structure
Toward an open-shell singlet nitrene
Gas-phase pyrolysis by charge-Remote Fragmentation
Detection of phenols by using the Gibbs Reaction with Mass Spec Detection
Please come visit our homepage
Take a look at our papers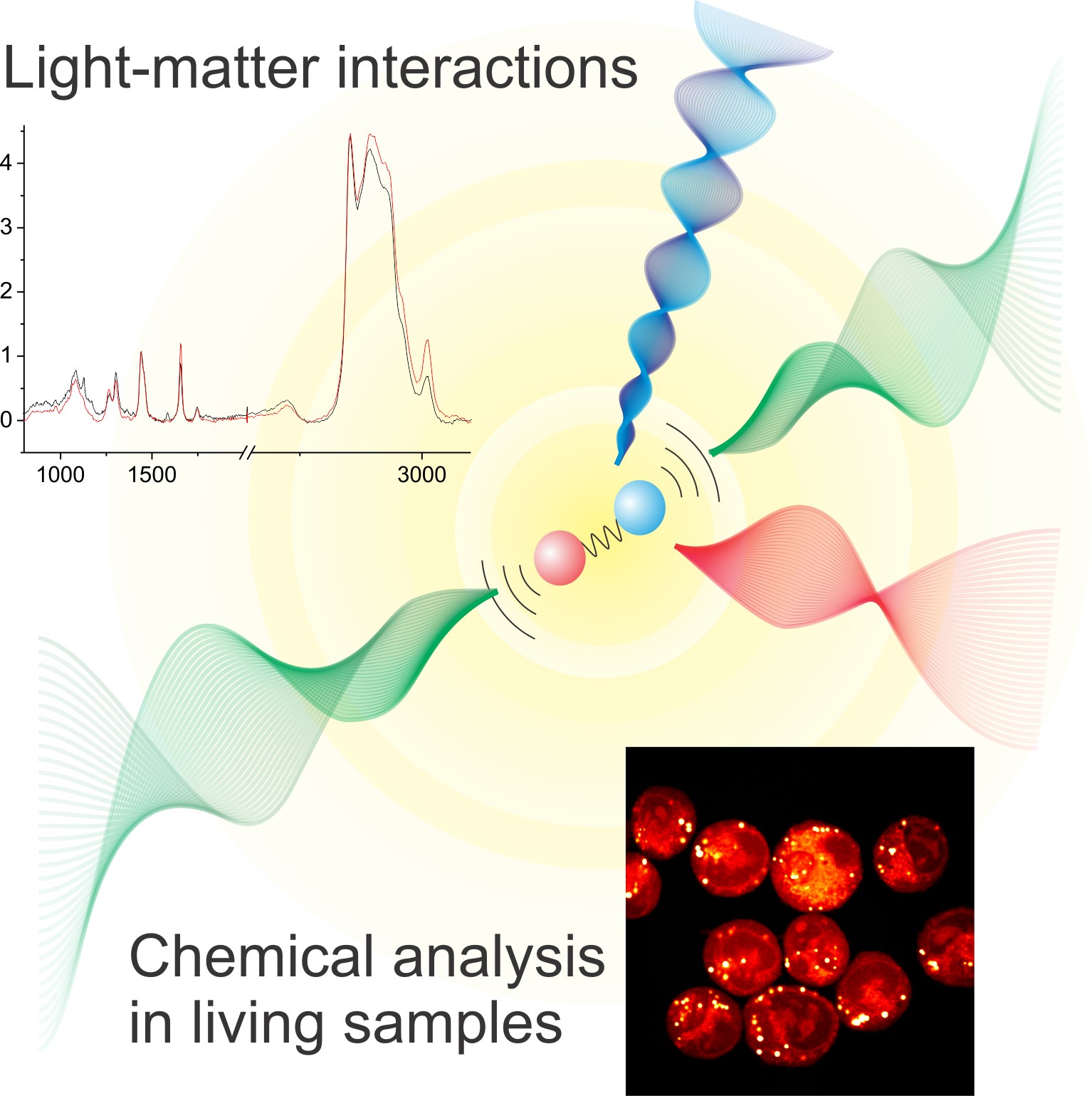 We develop optical spectroscopic and imaging platforms to understand the behaviors of biomolecules in living biological samples. We aim to discover new metabolic markers and targets for the diagnosis and treatment of human diseases such as cancer and bacterial infections.
Please come visit our homepage
Take a look at our papers