Undergraduate Research – CHM 49900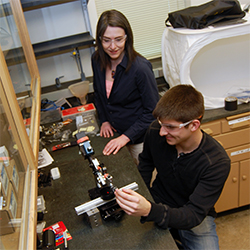 Participation in research is an integral part of the process of training to become a chemist. Working closely with faculty, graduate students and post-doctoral fellows, our undergraduate chemistry majors are not only exposed to the nature of chemistry, they learn to appreciate how new chemical knowledge is obtained.
Undergraduates may do research for credit (CHM 49900) under the direction of a Chemistry faculty member after they complete their first semester of their freshman year.
For more information on participating in research and registering for CHM 49900, click the links on the left sidebar.