Analytical Chemistry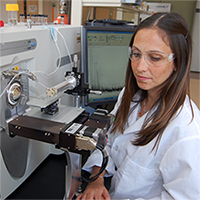 Purdue University's analytical chemistry program is the top graduate program in the United States. With eighteen faculty members and more than 110 graduate and undergraduate students, our program is one of the largest in the world. Research areas include (but are not limited to):
Mass spectrometry
NMR and MS based Metabolomics
Bioanalytical NMR methods development
Small molecule metabolism
Separation of biological macromolecules
Aqueous and gas phase reactions of environmental importance
Non-metal redox reactions
Analytical immunology, non-linear molecular spectroscopy
Proteomics
Instrumentation development for atmospheric measurements
Nanotechnology
Our analytical chemistry program is especially well known for students and faculty developing new instrumentation and measurement strategies. Strong departmental support has been the foundation during our 75-year history. The Jonathan Amy Facility for Chemical Instrumentation assists these efforts. Facility personnel have diverse backgrounds in chemistry, electrical engineering, and systems programming.
Analytical chemistry has been influential in a variety of ways both on and off campus. Faculty and students have been involved in Discovery Park, the Indiana Proteomics Consortium, the Chemobile, Bioanalytical Systems, Griffin Analytical Technologies, and Endocyte.
Center for Analytical Instrumentation Development (CAID)
The mission of CAID is to develop innovative "machine-tools of science" that enable discoveries across a broad spectrum of life science. These activities will lead to routine, point-of-need devices for use in drug discovery, clinical diagnostics, environmental monitoring, and the fight against chemical and biological terrorism.
Analytical chemistry at Purdue is more than Purdue analytical chemistry!