Purdue contingent to meet with industry, academic leaders in India
2007-12-06
Purdue researcher R. Graham Cooks and Discovery Park administrator Pankaj Sharma are traveling to India this month to meet with government, industry and university officials to explore research agreements in analytical instrumentation, climate change, energy, health care and pharmacy. 
They also will discuss student internship and faculty exchange programs.
Meetings are planned with officials at several research facilities, including the Indian Department of Science and Technology, Indian Institute of Technology, Tata Institute of Fundamental Research, Inter-University Accelerator Center, Jawaharlal Nehru Center for Advanced Scientific Research, Tata Energy Research Institute, and the National Institute of Pharmaceutical Education and Research.
The Purdue officials, who will spend two weeks in India beginning Wednesday (Dec. 5), also will meet with top executives at Dr. Reddy's Laboratories Ltd. in Hyderabad; Thermo Fisher Scientific Inc. and Satyam Computer Services Ltd. in Hyderabad; and pharmaceutical manufacturer and health-care giant Wockhardt Ltd. in Mumbai.
"Purdue and states like Indiana must look to form stronger educational and business relationships with countries like India to flourish in a global economy," said Sharma, associate director of Discovery Park. "Many of the economic and cultural challenges facing India also align with Discovery Park's mission to tackle challenges in areas ranging from alternative energy and health-care.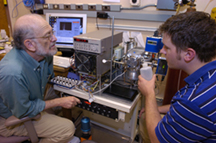 R. Graham Cooks (L) and Nathan Sanders

R. Graham Cooks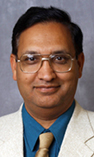 Pankaj Sharma