Purdue-designed Alzheimer's treatment completes first phase of testing
2008-01-17
WEST LAFAYETTE, Ind. - A molecule designed by a Purdue University researcher to stop the debilitating symptoms of Alzheimer's disease has been shown in its first phase of clinical trials to be safe and to reduce biomarkers for the disease.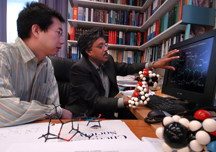 CoMentis, the pharmaceutical company developing the drug, announced on Jan. 7 completion of its Phase 1 study of a treatment based on the molecule. Results from the study indicate that the treatment is safe and well tolerated.
Arun Ghosh, a Purdue professor with a dual appointment in the departments of chemistry and medicinal chemistry and molecular pharmacology, designed the molecule that could allow for intervention in the disease's early stages.
The molecule, called a beta-secretase inhibitor, prevents the first step in a chain of events that leads to amyloid plaque formation in the brain. This plaque formation creates fibrous clumps of toxic proteins that are believed to cause the devastating symptoms of Alzheimer's.
The study of 48 healthy volunteers showed dose-related reduction in plasma amyloid beta, a protein believed to be a key biomarker of Alzheimer's. Results showed a single dose of the drug produced a greater than 60 percent reduction of the biomarker. Subjects received one of six different doses or a placebo, and the study measured levels of the therapeutic drug and levels of the biomarker in the bloodstream.
CoMentis plans to begin a phase II clinical study of the drug, oral CTS-21166, in Alzheimer's patients in 2008.
Alzheimer's disease usually begins after age 60, and the risk increases with age. According to the National Institute on Aging, about 5 percent of men and women ages 65-74 have Alzheimer's disease, and nearly half of those 85 and older may have the disease, for which there is currently no effective treatment.
There is no conclusive test for Alzheimer's. Doctors are able to diagnose "probable Alzheimer's" through a combination of medical tests that include blood tests and brain scans and evaluations of brain function.
"The phase I clinical results are very exciting," Ghosh said. "We hope that this beta-secretase inhibitor drug will be one of the first disease modifying treatments that stops or reverses the symptoms of Alzheimer's disease."
Writer: Elizabeth Gardner, (765) 494-2081, ekgardner@purdue.edu
Source: Arun Ghosh, (765) 494-5323, akghosh@purdue.edu
Purdue News Service: (765) 494-2096;