Negishi wins Japan's highest cultural honor
2010-10-27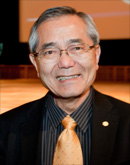 Nobel laureate Ei-ichi Negishi, the Herbert C. Brown Distinguished Professor of Chemistry, will receive Japan's highest distinction, the Order of Culture, on Nov. 3 from the country's emperor.
The honor is for his contributions to Japan's cultural development through his work to create a method to build complex organic molecules necessary for numerous purposes, from pharmaceutical manufacturing to electronics. Negishi is a Japanese national and first moved to the United States in 1960.
"Dr. Negishi's groundbreaking and inspiring work performed at Purdue has had a transformative impact throughout the world, and we share with Japan a great sense of pride in his accomplishments," said Purdue President France A. Córdova. "This is an incredible achievement for him and has brought great honor to Purdue, Indiana and his home country of Japan. Dr. Negishi is one of our finest examples of the quality of Purdue's faculty and a great inspiration to all of our students."
Negishi will receive the Order of Culture with six other recipients from fields as wide-ranging as acting, athletics and engineering.
George Hisaeda, consul general of Japan at Chicago, said, "The award is one of Japan's most prestigious honors, which recognizes individuals who have made great contributions in academia and culture. Japanese people around the world are delighted and extremely proud of Dr. Negishi and his achievement."
Source: Purdue University News Service