Negishi Receives Nobel Medal at Ceremony
2010-12-10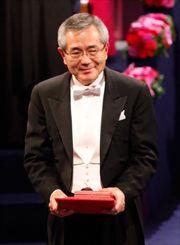 King Carl XVI Gustaf and Queen Silvia of Sweden presented Professor Ei-ichi Negishi and other laureates with Nobel medals and diplomas during a ceremony at the Stockholm Concert Hall.
Purdue President France A. Córdova attended the ceremony with first gentleman Christian J. Foster and Jeffrey Roberts, the Frederick L. Hovde Dean of the College of Science.
The honorees dined at the Nobel banquet. At the dinner, Dr. Negishi was chosen to thank the Royal Highnesses. In his remarks he mentioned the influence of the late Herbert C. Brown, Purdue Chemistry Professor and 1979 Nobel Laureate.
Dinner menu highlights included: duck galantine, fried truffled turbot, and milk chocolate and orange bavarian cream for dessert. Dr. Negishi was seated next to the Royal Princess and Mrs. Negishi sat next to the Royal Prince.
Dr. Negishi received the Nobel Prize in chemistry for developing chemical reactions that allow for easy and efficient synthesis of complex organic compounds that are used in everything from pharmaceuticals to electronics.
Negishi, the Herbert C. Brown Distinguished Professor of Chemistry, shares the prize with Richard Heck, an emeritus professor of the University of Delaware in Newark, and Akira Suzuki, an emeritus professor of Hokkaido University in Sapporo, Japan.
Related link: Dr. Negishi's dinner remarks