Negishi appointed Executive Research Advisor at Sony Corporation
2010-12-13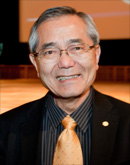 Sony Corporation has appointed Professor Ei-ichi Negishi as Executive Research Advisor for research and development in the field of materials and devices, specifically in the area of organic electronics.
In this role, Professor Negishi will offer advice on the various areas of organic electronics research and development Sony is conducting at both internal and external research centers, by participating in research progress review meetings and through other opportunities.
Professor Negishi will also advise on Sony's medium and long-term research plans, and on methods for nurturing talented researchers. Through the involvement of such a renowned expert in this field, Sony aims to stimulate its researchers in their organics electronics research and development, and accelerate their R&D processes as a result.