Cooks & Francisco Inducted into AAAS
2010-05-05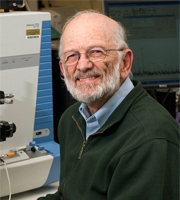 Chemistry professors R. Graham Cooks, the Henry Bohn Hass Distinguished Professor of Chemistry and Joseph Francisco, the William E. Moore Distinguished Professor of Earth and Atmospheric Sciences and Chemistry, have been elected members of the American Academy of Arts & Sciences, one of the nation's oldest and most prestigious honorary societies. Both (along with Purdue Mathematics Professor Freydoon Shahidi) will be inducted into the 2010 class at a ceremony on Oct. 9 at the academy's headquarters in Cambridge, Mass.
"The academy celebrates cutting-edge research and leadership in the sciences, social sciences, humanities and public affairs, and we are proud that three Purdue faculty members have been recognized for their unique contributions to the fields of chemistry and mathematics," said Purdue President France A. Córdova, who was elected as a member of the academy in 2008. "Professors Cooks, Francisco and Shahidi will further strengthen the academy's endeavors to address emerging social and intellectual issues through interdisciplinary research."
Cooks is a pioneer in the field of ambient ionization and tandem mass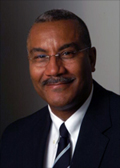 spectrometry. He developed a desorption electrospray ionization technique, called DESI, that eliminated the need for samples to be chemically manipulated and contained in a vacuum chamber for analysis. DESI paved the way for faster, far more portable devices, and Cooks and his colleagues have applied the technology to societal issues ranging from food safety to airport security and the determination of cancerous cells. Cooks also has created miniature mass spectrometers and leads Purdue's Center for Analytical Instrumentation Development.
Francisco, who is president of the American Chemical Society, has conducted research that has revolutionized the understanding of chemical processes in the atmosphere. He recently solved a 40-year search for an unusual molecule that is essential to the atmosphere's ability to break down pollutants and has worked with chlorofluorocarbons, mapping the pathways of these and lesser-researched compounds to understand how they break down in the atmosphere.
Founded in 1780, the American Academy of Arts and Sciences is an independent research center that conducts multidisciplinary studies of complex and emerging problems. Current academy research focuses on science and technology; global security; social policy and American institutions; the humanities and culture; and education. With headquarters in Cambridge, Mass., the academy's work is advanced by its 4,600 elected members worldwide who are leaders in the academic disciplines, the arts, business and public affairs. Among its fellows are more than 250 Nobel Prize winners and more than 60 Pulitzer Prize winners.