Purdue-IU team uncovers potential prostate cancer marker
2010-08-06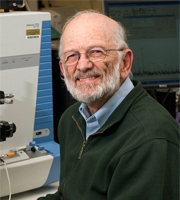 Studies by a Purdue University-led team have revealed a potential marker for prostate cancer that could be the starting point for less invasive testing and improved diagnosis of the disease.
The team used a new analysis technique to create a profile of the lipids, or fats, found in prostate tissue and discovered a molecular compound that appears to be useful in identifying cancerous and precancerous tissue. The profile revealed that cholesterol sulfate is a compound that is absent in healthy prostate tissue, but is a major fat found in prostate cancer tumors.
Graham Cooks, Purdue's Henry Bohn Hass Distinguished Professor of Chemistry, and Timothy Ratliff, the Robert Wallace Miller Director of the Purdue Center for Cancer Research, led the team.
"It was surprising to find a single compound that is distinctly present in cancerous tissue and not present in healthy tissue," said Cooks, who is co-director of Purdue's Center for Analytical Instrumentation Development. "We've been able to differentiate cancerous from healthy tissue using this new method in the past, but the difference was in the amounts of the same chemical compounds found in healthy tissue. There was no single differentiator of which one could say if it was present there was cancerous tissue."
The findings of the study, which was funded by the Purdue University Center for Cancer Research and the National Institutes of Health, were published in the journal Analytical Chemistry.
The study was performed in collaboration with physician scientists from Indiana University School of Medicine, who co-authored the paper. They also provided the tissue samples and pathological analysis of the samples to check the new technique's results.
The team used a mass spectrometry analysis technique developed by Cooks and coworkers called desorption electrospray ionization, or DESI, to measure and compare the chemical characteristics of 68 samples of normal and cancerous prostate tissue.

Source: Purdue News Service