Fluorescence-guided ovarian cancer surgery
2011-09-19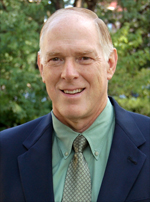 The first fluorescence-guided surgery on an ovarian cancer patient was performed using a cancer cell "homing device" and imaging agent created by Philip Low, the Ralph C. Corely Distinguished Professor of Chemistry.
The surgery was one of 10 performed as part of the first phase of a clinical trial to evaluate a new technology to aid surgeons in the removal of malignant tissue from ovarian cancer patients. The method illuminates cancer cells to help surgeons identify and remove smaller tumors that could otherwise be missed.
Low who invented the technology, said surgeons were able to see clusters of cancer cells as small as one-tenth of a millimeter, as opposed to the earlier average minimal cluster size of 3 millimeters in diameter based on current methods of visual and tactile detection.
"Ovarian cancer is notoriously difficult to see, and this technique allowed surgeons to spot a tumor 30 times smaller than the smallest they could detect using standard techniques," said Low, whoalso isa member of the Purdue University Center for Cancer Research. "By dramatically improving the detection of the cancer - by literally lighting it up - cancer removal is dramatically improved."
The technique attaches a fluorescent imaging agent to a modified form of the vitamin folic acid, which acts as a "homing device" to seek out and attach to ovarian cancer cells. Patients are injected with the combination two hours prior to surgery and a special camera system, called a multispectral fluorescence camera, then illuminates the cancer cells and displays their location on a flat-screen monitor next to the patient during surgery.
Source: Purdue University News Service