Learning Beyond the Classroom
2012-07-18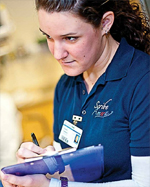 Susan Owens arrives for work at Lafayette's St. Elizabeth Hospital East late on a Monday afternoon. She will spend the next nine hours working side-by-side with emergency room physicians, an introduction to medicine every bit as valuable to her career plans as her work in the classroom.
Owens, a chemistry major and pre-med student, is an emergency room scribe. Her shifts run from 5 p.m. to 2 a.m. Sundays and Mondays and provide her with an invaluable introduction to the world she hopes to move through some day as an ER doctor. Through the night she will see her share of chest pain, shortness of breath, feverish infants, and another ER staple, those who merely seek drugs.
As a scribe, Owens accompanies the emergency room doctors to the exam rooms; records the patients' illnesses, exam, vital signs, labs and imaging studies; searches past medical records; and eventually enters the patients' discharge plan. The work, a new field born of the move toward electronic health care records, requires a firm grasp of medical terminology and anatomy. It also takes Owens far beyond the world of the university chemistry lab or pre-med class. And this is precisely why her job in the ER fits perfectly with the College of Science's new Learning Beyond the Classroom (LBC) certificate program.
The program, launched in August 2011, is designed to encourage students to apply what they learn in the classroom to realworld situations, and to prepare them to be well-rounded global citizens and members of the working world. Students earn points toward the 24 total required for the certificate by accumulating experience in three categories: career and professional development; service, citizenship and leadership; and experience with domestic and international diversity.
"The activities that students do outside the classroom add value to their degrees and make them unique among graduates of other universities," says Dennis Minchella, associate dean of the College of Science and one of the visionaries behind the program. Owens is among a dozen or so science students who will receive the first round of certificates this spring. The accomplishment will also be noted on their official Purdue transcripts. They are an ambitious group with resumes that include internships, study or medical missions abroad, job shadowing, tutoring both on campus and in the community, and work in medical and pharmacy settings. For some, the experiences have resulted in changed career or graduate study plans.
Related link:
Source:
Purdue College of Science