Studying Chemistry to prepare for Pre-medicine
2012-07-18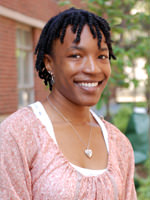 Kasi Onyejekwe chose the pre-med program after her family participated in a medical mission in Nigeria (her family's home country) a couple of years ago. After that experience, she knew that she wanted to become active professionally in the medical field. She is attending medical school next year.
Kasi became interested in science when she was 11 years old. She was attracted by the thrill of doing the hands-on experiments.
Purdue's pre-med/science program has students and faculty who are available as mentors and friends to undergraduate students. "I have had guidance whenever I felt confused about determining my next step," she explained.
The Department of Chemistry at Purdue University offers interdisciplinary opportunities for learning both organic chemistry and biochemistry, each critical to the pursuit of post-graduate studies in the medical field.
Numerous members of the chemistry faculty perform leading-edge research at the interface between chemistry and medicine. Undergraduate students have the opportunity to obtain research experience in many of these laboratories.
Related link:
Source:
Purdue College of Science