Professor Mingji Dai joins Purdue Chemistry Faculty
2012-08-15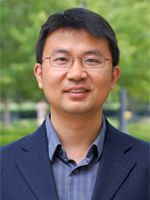 Mingji Dai has joined the department as an assistant professor in the organic division. He comes to Purdue after a postdoctoral fellowship at Harvard and the Broad Institute and a Ph.D. at Columbia.
Dr. Dai is working on methods in synthetic organic chemistry, particularly aimed at biologically active natural products and novel small-molecule libraries for the development of biological probes and new therapeutics.
He and his research group will move to Purdue's new Drug Discovery Building in Life and Health Sciences Park when it is completed in 2014.
His spouse, Bingbing Wang, has joined Professor Philip Low's research group as an assistant research scientist. She completed her Ph.D. at Peking University, and comes to us after postdoctoral positions at Drexel and Northeastern University, focusing on nanomaterial synthesis and applications.