Professor Harry Morrison retires
2012-04-23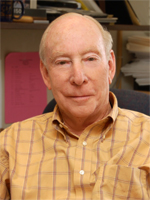 After nearly fifty years at Purdue, Professor Harry Morrison will be retiring in May 2012. He joined the department in 1963 and over the years has taught almost every organic course the department has offered, plus freshmen courses. As an administrator, he served as department head from 1987-1992, and was Dean of the College of Science from 1992-2002.
Morrison's interest in science was sparked at an early age. "I had had chemistry sets as a kid and enjoyed them. But it was when I went to a science high school in New York City (Stuyvesant), primarily to get a better education than I would have gotten in my neighborhood school in Brooklyn, that I became enamored with chemistry," he recalled.
After earning a B.A. from Brandeis University in 1957 and a Ph.D. from Harvard in 1961, Morrison was a postdoctoral researcher at the Swiss Federal Institute in Zurich, Switzerland for two years, followed by a research associate position at the University of Wisconsin from 1962-1963.
Morrison's reason for coming to Purdue is simple. "That's easy - the department offered me a job!" he joked. "My choices were between Purdue, Merck, and the DuPont Central Research Labs. Industry was always my second choice, and in retrospect, Purdue was clearly the best choice," he recalls.
While at Purdue, he has supervised nearly fifty Ph.D. students, and estimates that he has taught somewhere between 12-15,000 undergraduates. "I take great pride in the accomplishments of my former students, both undergrad and grad, and have always enjoyed it when they have returned to tell me how I affected their lives," he said.
As an administrator, Morrison was instrumental in increasing the numbers and impact of women faculty in the College of Science, along with formalizing and supporting the Women in Science program. He also started the process of expanding the number of distinguished professorships in the college.
Morrison has witnessed many changes at Purdue over the years - particularly growth. "Well, of course, just sheer size - the student numbers and the number of buildings. In 1963, there were only about 15,000 undergrads. That has sure changed. However, academia is remarkably slow to change and the university is more similar than different to what it was fifty years ago. I'm not sure if that's good or bad!" he pondered.
During retirement, Morrison plans to stay active in chemistry at Purdue and in Florida as a visiting professor at Florida Atlantic University in Boca Raton, where he and his wife, Harriet, will spend the winter months.
"Our children and grandchildren are in Indy and Chicago and we have no desire to be separated from them by 1200 miles for more than a few months of the year," Morrison explained. He and Harriet look forward to the opportunity to do more traveling and continuing their volunteering in the community.
Morrison will also be working on a book project with Minou Bina that he says should keep him busy for the next year or so. "I expect my colleagues will see me pretty regularly. This department has been an important part of my adult life and I'm not ready to walk away from it," he added.
Source:
Purdue Chemistry Communications