Chemistry Alum to lead AACC
2013-12-20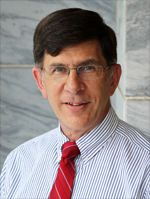 David D. Koch, Ph.D. will serve a one-year term on the American Association for Clinical Chemistry Board as president-elect, followed by successive terms as the association's 66th president in 2015 and past president in 2016.
"I am sincerely honored and humbled to be chosen as president-elect of AACC, and I will be pleased to serve the membership," said Dr. Koch. "Healthcare is evolving and we face noteworthy challenges ahead, but I am confident about clinical chemistry as a discipline and AACC as an organization. By pooling our resources and committing to our shared vision, AACC will advance the science and improve the practice of clinical chemistry in the future as we have in the past."
Dr. Koch is currently director of clinical chemistry, toxicology, and point-of-care testing at Grady Memorial Hospital and a professor in the Department of Pathology and Laboratory Medicine, Emory University in Atlanta. At Emory, he teaches in their Commission on Accreditation in Clinical Chemistry (ComACC)-accredited postdoctoral training program.
He is also a fellow of the National Academy of Clinical Biochemistry (NACB). In addition to being a committed member of AACC since 1980, Dr. Koch is active in the Academy of Clinical Laboratory Physicians and Scientists (ACLPS) and on several subcommittees of the Clinical Laboratory Standards Institute (CLSI). He is known in particular for his expertise in evaluating new clinical laboratory instruments and methods.
While at Purdue, Dr. Koch earned an undergraduate degree in 1974 and a doctorate in analytical chemistry under the supervision of Professor Peter Kissinger in 1979.
About AACC
Dedicated to achieving better health through laboratory medicine, the American Association for Clinical Chemistry (AACC) brings together more than 50,000 clinical laboratory professionals, physicians, research scientists, and business leaders from around the world focused on clinical chemistry, molecular diagnostics, mass spectrometry, translational medicine, lab management, and other areas of breaking laboratory science. Since 1948, AACC has worked to advance the common interests of the field, providing programs that advance scientific collaboration, knowledge, expertise, and innovation. For more information, visit the American Association for Clinical Chemistry website.
Source: Purdue Chemistry, AACC