Chemistry Alum receives India's Highest Civilian Honor
2013-11-19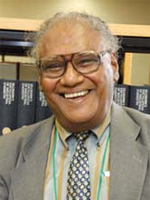 Purdue alumnus and international policy leader Chintamani Nagesa Ramachandra (C.N.R.) Rao was named a recipient of the Bharat Ratna, India's highest civilian award.
The Bharat Ratna, which translates to "Gem of India," recognizes "exceptional service or performance of the highest order in any field of human endeavor."
"Purdue University shares with India a great sense of pride in alumnus C.N.R. Rao and excitement at his being named a recipient of the Bharat Ratna," said Purdue President Mitch Daniels. "In addition to being an exceptional researcher and professor, Professor Rao is a staunch supporter of greater scientific collaboration between the United States and India and has lived that advocacy through continued collaborations with Purdue. We congratulate him on this well-earned honor."
Rao, chairman of the Scientific Advisory Council to India's prime minister, received his doctorate in chemistry from Purdue in 1958 and an honorary degree from Purdue in 1982. He also served as a visiting professor from 1967-68 and in 1982.
"Professor C.N.R. Rao is an eminent scientist and a well-recognized international authority on solid state and materials chemistry," said Prime Minister of India Manmohan Singh in a statement. "He has published over 1,400 research papers and 45 books. Professor Rao's contributions have been recognized by most major scientific academies around the world through conferment of memberships and fellowships. He has been honored with several national and international awards."
Rao is the National Research Professor as well as honorary president and Linus Pauling Research Professor at the Jawaharlal Nehru Center for Advanced Scientific Research, a past president of The Academy of Science for the Developing World, a member of the Atomic Energy Commission of India and an honorary professor at the Indian Institute of Science.
Rao's collaborations with Purdue include research into nanomaterials and carbon nanotubes, and analytical instrumentation. He also helped establish an agreement with the Indian Department of Science and Technology to establish formal research collaborations and exchanges of researchers, students and faculty between Purdue and Indian institutions.
In 2012 Purdue established an annual lecture series in his honor, the C.N.R. Rao Global Science Policy Leadership Lecture.
Source: Purdue News Service