Graduate Students travel to help with Tornado Relief
2013-12-04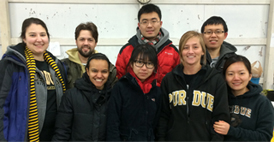 In November, several graduate students from the Department of Chemistry assisted in relief efforts to help Washington, Illinois families devastated by deadly tornados. More than 2400 homes were destroyed or damaged in the state during the Nov. 17 tornado outbreak.
The group of students spent part of the day with the Hopewell Grange Community Organization where it organized clothing donations. Later in the day after a brief orientation at Bethany Community Church, the students were escorted into a neighborhood and assisted with debris clean up.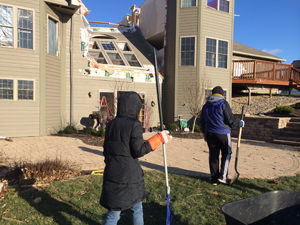 "It was pretty shocking. There were a lot of things that just left you speechless, like crumpled cars, flattened homes, boards that had stuck into the side of houses, and just general devastation. The worst part was we were only in a single suburb that was hit," said Tiffany Jarrell, a Ph.D. candidate in Professor Hilkka I. Kenttämaa's research group.
(Photo above, front row, L to R: Deepali Mehta-Hurt, Ximo Zhang, Tiffany Jarrell, Chunfen Jin; back row L to R: Christine Bohn, Chris Dettmar, Di Zhang, Xiang Cao.)
Source: Purdue Chemistry

Photos: Tiffany Jarrell