Professor Marcy Towns presented Murphy Teaching Award
2013-03-21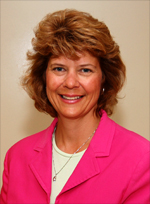 Marcy Towns, professor of chemical education, has been honored with a 2012-2013 Murphy Award for Outstanding Undergraduate Teaching.
Towns was nominated for her efforts to cater to students with extended office hours and leading study sessions at locations away from Chemistry's home base of Wetherill. For example, her evening sessions at the Black Cultural Center is an example of reaching out to undergraduates.
She said it is especially important for all students to find success in 100-level Chemistry classes. They will need the momentum as they pursue their majors — whether it's Science or other fields like Engineering, Agriculture, or Health and Human Sciences.
The University's highest undergraduate teaching honor, the Murphy Award is accompanied by a $10,000 cash award and induction into Purdue's Teaching Academy, which provides leadership for the improvement of undergraduate, graduate and outreach teaching. Murphy was a history professor at Purdue between 1927 and 1970.
Twelve faculty members from the Department of Chemistry have been selected as Murphy Award winners since the award was created in 1966. Chemistry has had more winners of this award than any other department at Purdue.
Murphy Award recipients from the Department of Chemistry:
Marcy Towns (2012)
Dor Ben-Amotz (2011)
Jean Chmielewski (2009)
Chris Hrycyna (2006)
Mary Nahkleh (2005)
Cliff Kubiak (1989)
Fred Lytle (1984)
George Bodner (1980)
Joe Wolinsky (1973)
Robert Benkeser (1971)
Derek Davenport (1969)
Robert Livingston (1967)
Related links:
Video of Dr. Towns receiving news of the award
Sources:
Tim Brouk - College of Science, George Bodner - Chemistry