Professor Marcy Towns inducted into Teaching Academy
2013-11-05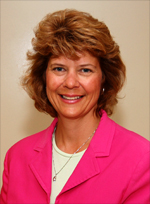 Marcy Towns, professor of chemical education, has been inducted into Purdue's Teaching Academy.
The mission of the Teaching Academy is to provide leadership and serve as a catalyst to enhance and strengthen the quality of undergraduate, graduate, and outreach teaching and learning.
Bringing together outstanding scholar-teachers from across the curriculum, the Teaching Academy provides all interested faculty, staff, and students the opportunity to talk, learn, and work together on important and meaningful educational initiatives.
Earlier this year, Towns was honored with a Murphy Award for Outstanding Undergraduate Teaching.
She joins nine other Teaching Academy members from the Department of Chemistry, including:
George Bodner
Jean Chmielewski
Christine Hrycyna
Fred Lytle
Mary Nakhleh
John Nash
Harry Pardue
Gabriela Weaver
Joseph Wolinsky