In Memoriam: Chemistry Alumnus and Manhattan Project Researcher
2014-10-28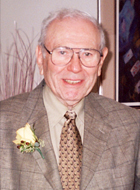 Ralph Tekel, 94, of Center City, a retired La Salle University chemistry professor who as a graduate student contributed to the Manhattan Project - albeit without his knowledge - died Wednesday, Oct. 8, of pneumonia at Thomas Jefferson University Hospital.
According to his daughter Billie Elias, in 1944 Dr. Tekel was part of a research team led by Dr. Henry Hass at Purdue University called Project 220. The team was asked to prepare Freon-like materials called fluorocarbons, Elias said.
But not until after World War II did the researchers learn that those materials had been used to separate certain isotopes used in the atomic bomb, Elias said her father wrote in an account of his life.
"The product the team sought, perfluoroheptane, had the right properties of a refrigerant used in the process of separation. Some aspects of this process were still secret in 1999 when my father wrote his notes," Elias said.
She said many scientists, including her father, were against dropping any atomic bomb. The A-bombs were dropped over the Japanese cities of Hiroshima and Nagasaki in August 1945, effectively ending World War II.
Dr. Tekel was born on Manhattan's Lower East Side and graduated from Stuyvesant High School.
He attended Brooklyn Polytechnic Institute (now part of New York University) and worked his way through college waiting tables during the summer at hotels in the Catskill Mountains.
His first professional job was as a researcher at the Pediatric Research Laboratories at Jewish Hospital of Brooklyn. He received two patents in 1946 and 1950 for his work in X-ray contrast media.
In 1949, he received a doctorate in chemistry from Purdue.
After settling in Philadelphia, Dr. Tekel worked in chemical development for pharmaceutical companies, including Wyeth Laboratories and National Drugs. He was involved in the production of synthetic steroids, antibiotics, and psychotropic drugs.
From 1965 until his retirement in 1985, Dr. Tekel was a professor of organic chemistry at what is now La Salle University. In addition, he served on La Salle's recommendations panel for medical school applicants.
"He was a wonderful teacher, one of the best at La Salle," said John M. Daly, dean emeritus of the Temple University School of Medicine and now the Harry C. Donahoo Professor of Surgery at Temple and Fox Chase Cancer Center. "He wanted you to succeed. He would stay after class to answer any questions."
His marriages to Doris Lepaw and Pearl Miller ended in divorce; both have since died. In 1960, Dr. Tekel married Lillian Toll Stevens. Her experience in World War II as an Army nurse and as a first lieutenant in the Persian Gulf Service Command had taken her around the world; the two shared a love of travel.
Dr. Tekel, who lived in Jenkintown, Elkins Park, and Rydal before moving to Center City, was known for being brilliant and charming.
"He had a joy for living," said Elias. "He liked being with young people. He never seemed to age."
Surviving, besides his wife and daughter, are another daughter, Linda Beelitz; stepdaughters Debbie and Cindy Stevens; and three grandchildren. A stepson, Arthur Stevens, died last year.
Services were Friday, Oct. 10.
Source: Philadelphia Inquirer
Photos: Provided by Billie Elias
Donations may be made to the Brain Observatory, c/o Dr. Jacopo Annese, 3510 Dunhill St., San Diego, Calif. 92121.