Student Preparing for Military Deployment
2014-10-31
Writer(s): Steve Scherer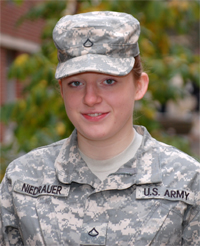 First-year graduate student Miri Niedrauer is just as comfortable operating a 25-ton bulldozer as she is teaching a General Chemistry lab. But later this month she will temporarily hang up her lab coat for a year while her Army National Guard unit is deployed to the Middle East.
"I do not yet know the exact location or nature of the mission, but I am a heavy equipment operator attached to the 1313th Engineering Company, so my unit's job is usually based around some form of construction," explained Pfc. Niedrauer.
This will be the first deployment for Niedrauer, a Texas native who enlisted in the Texas National Guard at age 17 in 2012. She recently transferred to the Indiana National Guard to attend Purdue.
"I enlisted mainly because the military is a family tradition.  One of my sisters, two of my brothers, my uncle and aunt, my cousin, and both of my grandfathers have served or are currently serving. It is one of the best decisions I have ever made," she added.
Growing up on a small dairy farm in rural Northeast Texas, Niedrauer discovered her love for science at an early age. "I was homeschooled through high school, and my parents always encouraged me to read a lot of books.  I read a book on chemistry when I was about ten and was instantly hooked. I began studying chemistry in college at 15, because I was sure that was what I wanted to do," she said.
Niedrauer earned a Bachelor of Science in Chemistry, and minor in Mathematics from the University of Texas at Tyler. Here at Purdue she recently joined Professor Arun Ghosh's research group where she plans to study organic chemistry and drug discovery.
"Although she is new to my group, Miri and I have discussed her future goals, and I really like her enthusiasm and ambition to become a professor at a research university. I salute her dedication to our country and look forward to welcoming her back," said Arun Ghosh, the Ian P. Rothwell Distinguished Professor of Chemistry and Medicinal Chemistry and Molecular Pharmacology.
"I have full intentions of returning to Purdue in the spring of 2016 to pick up where I left off.  The university and the Department of Chemistry have been very helpful and understanding with the whole situation, and have helped in making the transition a lot easier," she said.
Niedrauer says that balancing college life and military life is an exercise in time management but admits, "I like the idea of being out in the field qualifying on an M-4 rifle covered in mud one day, then sitting in an Advanced Topics Biochemistry class the next.  Life is certainly never boring."
Source: Purdue Chemistry