Analytical classroom stretches across the state
2014-03-24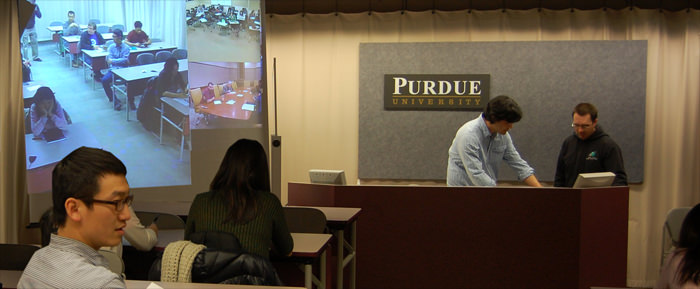 Purdue, Indiana, and Notre Dame Universities are state rivals in collegiate athletics, but this semester the three are teaming-up to explore analytical chemistry advances. The course is "Bench to Bedside" (CHM696), where graduate students at the three campuses are learning about point-of-care diagnostic measurements.
The Purdue portion of the course meets in a Stewart Center distance education classroom connected to Bloomington and South Bend where instructors at the three locations rotate through presentations followed by real-time discussion with the student scientists.
"The class has exposed me to some of the best devices and techniques that bridge the gap between bench and bedside. For instance, an inexpensive paper test card can be used to test counterfeit drugs without the use of highly trained personnel or expensive analytical instruments. I'm learning that to increase the actual applicability of a therapeutic device, we need to think big but work small," said Shi Choong, a Purdue chemistry graduate student enrolled in the course.
"This course is an intriguing experiment for us as the research teams at three institutions have complementary interests in advancing diagnostics. These students will be leaders in the profession for decades to come and it is great to have them get to know each other as well as faculty from all three universities," said Peter Kissinger, Purdue Chemistry professor and presenter in the course.
Purdue, IU, and Notre Dame collaborate in the Indiana Clinical and Translational Sciences Institute (CTSI), a statewide effort sponsored by NIH. And for more than three decades, analytical chemistry scientists from all three schools, along with the University of Illinois, meet for the annual Turkey Run Analytical Chemistry Conference in Marshall, Indiana. But this is the first time for a class.
"The three universities are among the nation's leaders in developing analytical instrumentation and increasingly this tradition and these capabilities are being targeted at biomedical and clinical problems. The combination is dynamite and the potential upside is very exciting. Being in a classroom that stretches across the state is liberating to all of us," said R. Graham Cooks, Purdue Chemistry professor and presenter in the course.
Source: Purdue Chemistry