Professor Thompson studying neurodegenerative disorder
2014-02-17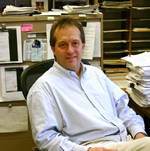 After battling Niemann-Pick disease type C for about a decade, the Smiths are still going strong.
They invite the community to join the fight against the neurodegenerative disorder that has taken the lives of two of their children — Braden in 2006 and Riley in January. A third child, Keaton, 13, continues to fight the disease.
Buffalo Wild Wings in West Lafayette will donate 15 percent of all pre-taxed food sales Monday to the Smith Family BReaK Thru Fund. The event occurs in conjunction with the Purdue women's basketball program.
The Smiths began fundraising in 2008 to put local names and faces to the disease. Since then, they have raised nearly $300,000 for Niemann-Pick disease type C research at Purdue University.
"It's been good to raise the money locally and give it back locally," father Trent Smith said.
The money first goes to the Ara Parseghian Medical Research Foundation, a nonprofit organization founded in 1994 by family members of famed Notre Dame football coach Ara Parseghian.
"They hold it in their organization, and we designate which research project we want to fund," Smith said. The Smiths seek medical advice from scientists in the community when deciding on a project.
Currently, Dr. David H. Thompson, a professor in organic chemistry at Purdue, is conducting two studies to address the buildup ofcholesterol, which in turns destroys cells in the body of someone with Niemann-Pick type C. Smith said the family has supported Thompson's research for several years.
"We've been working for about four years now on a way to improve the therapeutic options," Thompson said. Thompson and his team are working from anaccidental discovery from about 12 years ago that found a ring-shaped molecule called Cyclodextrin that can remove the stored cholesterol from the cells.
"It is the most fulfilling scientific project I have been involved in," Thompson said. "I've gotten to know the Smiths through their BReaK Thru Fund and it has become very personal in that way."
In addition to Monday's fundraiser, Purdue men's basketball coach Matt Painter selected the Smith Family BReaK Thru Fund to represent in the Infiniti Coaches' Charity Challenge.
The challenge encourages fans to vote daily for their favorite charity in a series of rounds. The coaches who receive the most votes move on to the next rounds, ultimately vying for $100,000 for their charity.
Smith said the third of five rounds begins Monday and that his fund is guaranteed $10,000. Last year, the challenge granted them $5,000.
"We got to know the Painters (through a mutual friend), and when Matt was asked to be a part of the challenge last year, he asked us if we were interested," Smith said. Painter has been supportive of the Smiths' mission for years, donating men's basketball game tickets and autographed items for silent auctions.
"Well, it's a rare disease. This is a battle that we as parents and individuals fight, but we're not going to get millions of dollars like some other diseases," so $100,000 could go a long way, Smith said.
"It is a disease that needs some attention."
Source:
Lafayette Journal & Courier