Resource Room Space Remodeled
2015-12-21
Writer(s): Steve Scherer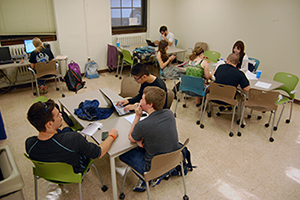 The Chemistry Resource Room (CRR) in WTHR 117A-D was recently remodeled with new furniture at the beginning of the fall semester.
The CRR space is staffed by a dozen undergraduate tutors and four graduate students who are available to help students taking Chemistry courses.
"The existing furniture was replaced with a modular concept that allows tables of four to become tables of twelve or more and movable chairs and tables that allowed quick rearrangement to suit the learning space from a webinar, to a working lunch, to a group study," explained Beatriz Cisneros, Resource Room and Chemistry Undergraduate Advisor.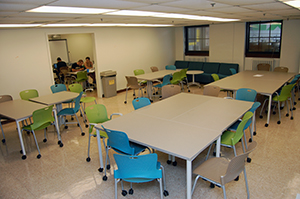 In addition to one-on-one tutoring, the space also serves as the office hours location for courses CHM 255-256-257, CHM 12901, CHM 13600, CHM 32100; as well as, PARTE (Preparation And Readiness to Take Exams) sessions, review sessions offered by TAs, individual study time for ROTC students, individual tutoring sessions, and group/individual studying.
"It is especially important for students in General Chemistry to have someone to talk with when solving the homework and the office hours for General Chemistry are located in WTHR 116B-C just around the corner, so it is very resourceful to study in this space.  In addition to staff members and TAs, we have textbooks, reference books, old exams, molecular models," Cisneros added.
The CRR was created in spring 1973 and was last remodeled in 1985 when the original space was expanded to the current four rooms.
The CRR is open Mon-Thu 8:30a-8:30p, Fri 8:30a-5:30p, Sat 10a-6p, Sun 12-4p.
(Click on images for enlarged view)