Summer Research Program
2015-06-29
Writer(s): Steve Scherer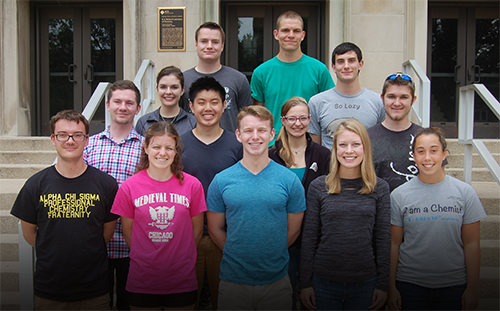 Since 2008, the Department of Chemistry has funded a Summer Research Program where undergraduate students work in Chemistry research labs alongside faculty, postdoctoral researchers, and graduate students.
The students' individual research projects range from working on new applications to teach chemistry to blind students, to developing therapeutics for Niemann–Pick disease.
"Summer research is a great way for undergrads to learn lab methods and practices as they decide whether to pursue graduate research after Purdue," said Beatriz Cisneros, undergraduate advisor for the Department of Chemistry. "There is also the opportunity to get their work published," she added.
The program started with 9 students and has grown to 18 students in 2015. The students are nominated by their research advisor.
The program is endowed by emeritus faculty and alumni, including: Dale W. Margerum, Robert Benkeser, Joseph Wolinsky, Fred and Josephine Faulkner, Harrison Stine, and other contributors.