Frank Brown presented Pinnacle Award
2016-05-02
Writer(s): Steve Scherer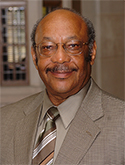 Chemistry alumnus Frank Brown was presented Purdue's Distinguished Pinnacle Award.
A gift from Dr. Brown established a distinguished professorship and the Purdue Board of Trustees recently ratified Hilkka Kenttämaa as the Frank Brown Distinguished Professor of Chemistry.
The award was presented to Brown by Purdue President Mitch Daniels at a reception in Leighty Commons on May 2. "We honor Frank for his sincere loyalty and commitment to Purdue University and its future by making this extraordinary leadership gift," said Daniels.
Dr. Brown received his doctorate in chemistry in 1969 studying under Dr. Henry Feuer.
He worked at Eli Lilly and Co. before becoming an adjunct professor in Purdue's departments of Chemistry and Industrial and Physical Pharmacy.
Dr. Brown was awarded the College of Science Distinguished Alumni Award in 1991.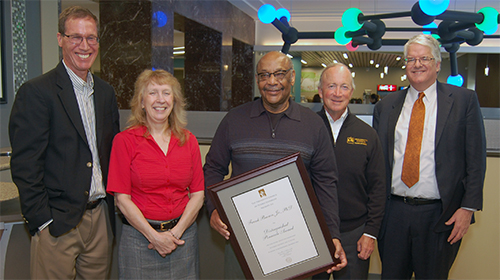 (L to R) Chemistry Department Head Tim Zwier, Professor Hilkka Kenttämaa, Dr. Frank Brown, Purdue President Mitch Daniels, College of Science Dean Jeffrey Roberts.