Chemistry Alum visits White House
2016-05-20
Writer(s): Steve Scherer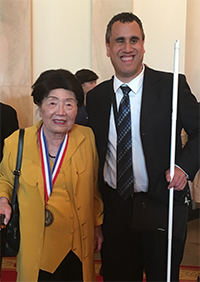 Chemistry alumnus Cary Supalo (B.S. 1999) was a guest of the White House when Nancy Ho, founder and president of Green Tech America Inc. and a research professor emerita in Purdue University's School of Chemical Engineering, received the National Medal of Technology and Innovation from President Barack Obama at a ceremony on Thursday (May 19.)
Former Purdue University President France Córdova, now director of the National Science Foundation, was also in attendance.
Supalo founded Independence Science Inc., a Purdue Research Park-based company that strengthens hands-on experiments in STEM (science, technology, engineering and mathematics) courses for students who are blind or visually impaired.
His company was honored with a 2014 Access Award by the American Foundation for the Blind for its contribution to universal accessibility. Independence Science joined an elite group with past winners including Apple, CBS, Google, IBM, McDonald's and Panasonic.
Photo caption: Nancy Ho and Cary Supalo meet at the National Medal of Technology and Innovation awards in Washington, D.C.