Matthias Zeller new X-ray Crystallographer
2016-02-16
Writer(s): Steve Scherer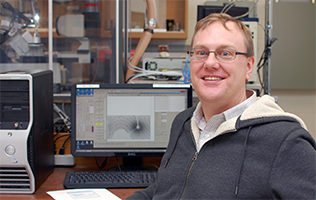 Matthias Zeller has joined the Department of Chemistry as Crystallographer and Manager of the Purdue X-ray diffraction laboratory.  Zeller has spent his first months at Purdue updating lab procedures, software, and preparing the space for new equipment.
"We will install a new powder XRD instrument in April and also have an NSF MRI grant pending for a new single crystal XRD," he said.
The facility, with its instrumentation and X-ray diffraction expertise, is an important tool for researchers.
"X-ray crystallography not only provides a molecular picture, but also gives us important metrical parameters that give us insight into the molecule's electronic structure and allows us to predict reactivity, in some cases," explained Suzanne Bart, associate professor of inorganic chemistry.
Ian Powers, a graduate student in Professor Chris Uyeda's research group and frequent X-ray lab user, appreciates Zeller's expertise in his field and passion as a teacher, explaining everything in detail about the process of mounting, collecting, and refining data.
"Matt has helped me collect data on crystals that I never knew I get could data from and his dedication to keeping the facility running at peak performance means that turnaround times on data collection are quite fast," added Powers.
A native of Bamberg, Germany, Zeller received his Ph.D. from The University of Erlangen Nuremberg, in Germany, where he investigated the degree to which phosphorus(III) can replace carbon atoms in organic and metal organic chemistry.
After a postdoctoral fellowship at the Massachusetts Institute of Technology he joined Youngstown State University, where he became instrumental in the establishment of the Starburstt consortium, a nationwide organization for the promotion of X-ray diffraction techniques predominantly at undergraduate institutions in teaching and research.
This fall, he will teach X-ray Crystallography CHM 696, and is planning to conduct a series of crash courses and summer seminars on crystallography for students at both Purdue and affiliated schools.