2016 Distinguished Alumni
2016-03-28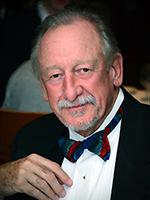 Tony Hamer will receive the College of Science Distinguished Alumni Award in spring 2016.
During his career, he has always searched out opportunities and environments where he can stimulate and be involved in major innovations and participate in high performance teams whether they be in the scientific, business or sports community. 
Tony arrived at Purdue as a British economic refugee in 1970, at the invitation of Professor Dick Walton, to work on his Ph.D. in Inorganic Chemistry. Fortunately the research that he undertook on transition metal halides and carboxylates lent itself to the use of the new innovative surface analysis technique, ESCA, and resulted in tremendous new insights on the surface environment of molecules, a good funding stream, and numerous papers. When not in the bowels of the chemistry department with John Amy and Bill Baitinger, he could be seen helping found the Purdue Rugby Club, developing his golf game, and travelling to explore the USA.
After completing his Ph.D in less than 4 years, he launched his career in the chemical industry at Union Carbide as a bench chemist, and followed this with positions of increasing responsibility at Exxon and Olin Corporation. At Union Carbide and Exxon he was instrumental in the development and commercial implementation of a new process for the production of polyolefins which today produces more than $60 Billion per year of these materials, globally. During this era he was awarded a number of US and world patents on catalysis and critical process aspects. At Olin Corp he initiated development work on aliphatic di-isocyanates for the clear coating for cars applications, which are now standard across the global industry.
After 20 years in technology and business positions in the chemical industry he sought new challenges in the Energy industry at Gas Research Institute in Chicago as the Senior Vice President. In this role he directed the investment of over $200 Million per year in technologies for the exploration, production and distribution of Natural Gas, and its efficient and environmentally optimized end uses in power generation, natural gas vehicles, residential, commercial and industrial applications. His interests at this period were also in the development of unconventional gas resources including shale where GRI investments in "fracking" led to the meteoric development of shale gas resources in North America over the last decade.
In the new millennium Tony has developed his career as a premier Chemical and Energy Industry consultant focusing on coherent growth strategies, operational improvement and technology/innovation planning for Fortune 500 global companies in North America, Europe, Middle East, South America and China. He has helped the largest oil company in the world develop a state of the art innovation process, enabled the largest South American Chemical Company to establish its business in North America, and provided the template and consulting team for the modernization of operations of one of the leading state owned chemical companies in China.
When not travelling and consulting you can find Tony spending time in Prescott, Arizona with his wife Michele, and his sons David and Chris and their families. He also has passion for restoring, working on and driving his classic cars, being an errant golfer and avidly supporting rugby and real football around the world.