Alum presented honor by Prince Charles
2017-05-15
Writer(s): Steve Scherer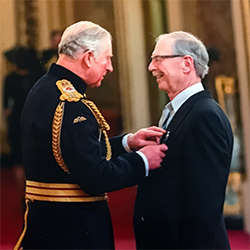 Chemistry alum Bernie Bulkin (Ph.D., 1966) was recently invested as an Officer of the Order of the British Empire by Prince Charles at Buckingham Palace. The citation honors his services to the energy industry.
Dr. Bulkin is formerly Chief Scientist of BP, and held several other senior executive roles with BP from 1985-2003. His activities span business, government, communication, and education.
He recently wrote, "Crash Course: One Year to Become a Great Leader of a Great Company," a book about his insight and experience on effective leadership in the corporate world. Dr. Bulkin is currently working on book about chemistry innovations in the second half of the 20th century.
He will be visiting campus in fall 2017 to participate in the Dean's Executive Seminar.