Professor Hrycyna named Head of Chemistry
2017-05-01
Writer(s): Steve Scherer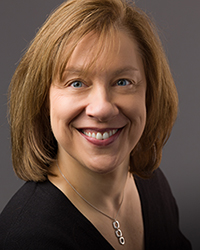 Professor Christine Hrycyna will become the new Head for the Department of Chemistry on July 1, 2017. College of Science Interim Dean Craig K. Svensson made the announcement in April.
"I am confident that she will continue to advance the excellence for which the department is nationally recognized," said Svensson.
In Chemistry's more than 100-year history at Purdue, Hrycyna is the first woman to lead the department.
"I am honored and excited to be selected as the next Head of the Department of Chemistry at Purdue and I want to thank the members of the department and Dean Svensson for having the trust and confidence in me and in my abilities to lead. I look forward to working together with our faculty, staff, students and our network of alumni to take our department to even greater heights," Hrycyna said.
Hrycyna received her B.A. degree in Chemistry from Middlebury College and her Ph.D. in Biochemistry from the Department of Chemistry and Biochemistry at UCLA. Following a postdoctoral fellowship at the National Institutes of Health, she came to Purdue in 2000 and currently serves as an Associate Department Head and the Head of the Biochemistry Division within the department. Outside of the department, Hrycyna also serves as Head of the campus-wide Purdue University Life Sciences Interdisciplinary Graduate Program (PULSe).
Hrycyna is an accomplished researcher who runs an NIH-funded research group comprised of both graduate and undergraduate students that investigates the molecular mechanisms of cancer, aging and multidrug resistance. She was recently named a University Faculty Scholar to recognize her record of outstanding academic achievement.
She is also a highly decorated teacher, having won many departmental, college and university awards including the Murphy Award, Purdue's highest undergraduate teaching award.
Hrycyna succeeds Professor Timothy Zwier who served as Head since 2013.
 "I also want to thank Dr. Tim Zwier for his outstanding service to the department as Head. He has served the department well and we have benefited from his leadership," added Dean Svensson.