Commercialization Leadership in Chemistry
2017-11-17
Writer(s): Steve Scherer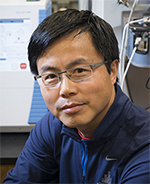 Chemistry continues to be a campus leader in innovation. At the annual Inventors Recognition Reception, Professor W. Andy Tao (photo right) was named the 2017 recipient of the Outstanding Commercialization Award.
The award is given annually to a faculty member in recognition of outstanding contributions to, and success with, commercializing Purdue research discoveries.
Tao's company, Tymora Analytical Operations, uses analytical techniques to detect breast and bladder cancers.
At the reception, Purdue inventors recognized Professor R. Graham Cooks with a standing ovation for the nine patents he earned this year and his decades of commercialization leadership at Purdue.
"The remarkable thing is that in a small town in the Midwest, Purdue is punching way above its weight, for example 12th in world in U.S. patents and 161 startups in past four years," added Cooks.
Professor Arun Ghosh was awarded five patents this year. "The fact that so many chemistry faculty have been recognized with issued U.S. patents reflects the central role of chemistry in discovery and innovation on the Purdue campus," Ghosh noted.
Chemistry faculty whose inventions were patented during the 2016-17 fiscal year are:
Dor Ben-Amotz
Jean Chmielewski
R. Graham Cooks
Mingji Dai
Arun Ghosh
Hilkka I. Kenttämaa
Mark A. Lipton
Philip S. Low
P. Veeraraghavan Ramachandran
W. Andy Tao
David H. Thompson
Alexander Wei
Jonathan Wilker
Mary J. Wirth