Iota Sigma Pi hosts Indy Meeting
2017-07-12
Writer(s): Steve Scherer
In early July, Purdue members of Iota Sigma Pi hosted the organization's 2017 triennial convention in Indianapolis. Graduate students Eileen Judkins, Sarah Robey, and Susannah Banzinger began planning the convention three years ago. Six Purdue chapter members presented research projects during the four-day event.
Iota Sigma Pi is a national honor society for women in chemistry. Its major objectives are to promote interest in chemistry among women students; foster mutual advancement in academic, business, and social life; and stimulate personal accomplishment in chemical fields.
The organization was founded in 1902 and was organized on a nation-wide basis in 1916.
More than 11,000 members have been initiated as members with forty-six local chapters established in various colleges, universities, and metropolitan areas.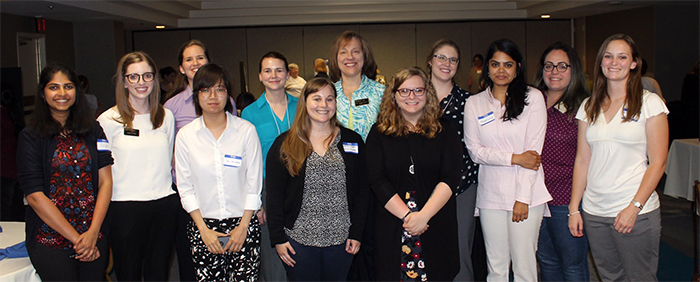 Chemistry Department Head Christine Hrycyna visits Purdue members of Iota Sigma Pi at the organization's triennial conference in Indianapolis. [From L to R: Priya Prakash, Ashlin Porter, Susannah Banzinger, Jae Jin Bang, Sarah Robey, Heather Siebert, Chris Hrycyna, Hilary Florian (2017-2018 Chapter President), Eileen Judkins, Monessha Nambiar, Stephanie Santos-Díaz and Amelia Putnam.]